Beckoning the Tormented Souls From Beyond: A PVE Soul Eater Guide by TimeFox is licensed under a Creative Commons Attribution-NonCommercial-NoDerivatives 4.0 International License.
Disclaimer:
I am not imposing an ideal build to be followed. This is just for reference purposes to aid fellow Soul Eater players. Information stated below will be more or less subjected for updates and changes. I do not possess the wellspring of knowledge for this class so it'll be very appreciated if we maintain a healthy 2-way learning process.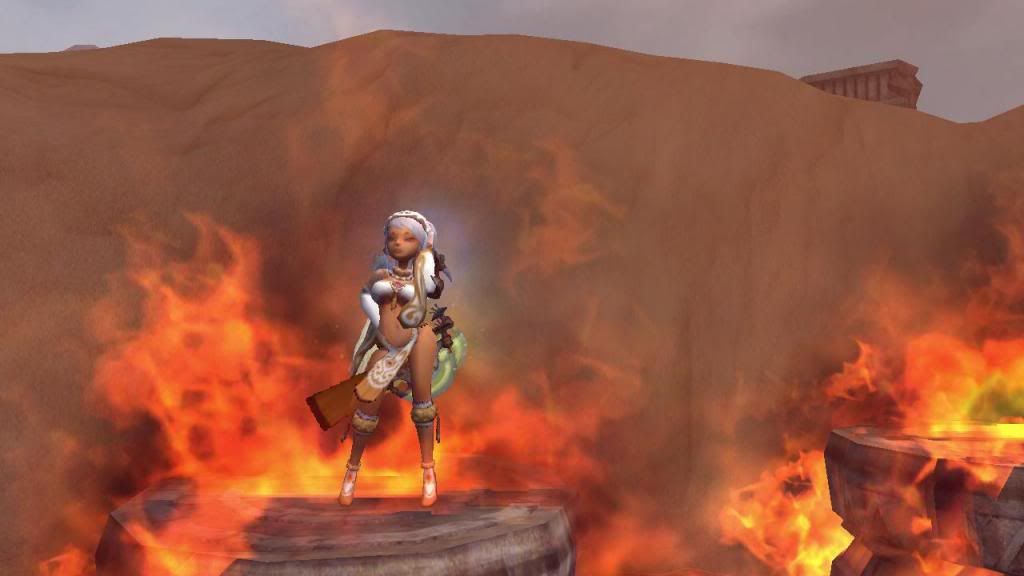 Clavis
(things you need to note)
Branded Status


-One of the key points you have to abuse as a Screamer (particularly leaning to the Soul tree)
-Only achieved when targets are hit by the skill Stigma of Curse
-Branded Status increases skill coefficients of Paper Spirit, Soul Gate, and Ghost Scream as it adds additional "ammunition" / hits corresponding to the number of branded targets on the field.
-
PVP: It gets cancelled when the branded target successfully breaks your SA by its attack
-
Enables you to summon your puppet



Curse


-An aftermath/residual damage similar to burn and poison status effects that follows special mechanics. Curse damage takes effect when enemies are hostile/attacking.
-Skills that inflict curse status: Paper Spirit, Soul Gate, Beast Spirit
-Curse damage is solely dependent on the user's Magic Attack stat and is not affected by Final Damage, Crit, and Dark Attack
-Ghastly dark flames surrounding the afflicted target denotes curse
-There will be different curse counters for every skill that inflicts curse
- Curse also reduces elemental resistance of targets (curse effect is capped at max -15% elem resist)
Delay debuff


-Acts like slow/frostbite but is gradually recovered overtime
-Skills that inflict delay status: Cling Snake, Dragon's Soul, Ghost Scream
-Targets afflicted with the delay debuff are ensorcelled in magic circles found beneath them reducing their action speed.



Ghost's Curse/Specter of Pain debuff


- successfully stacking it 3 times will trigger an medium AoE explosion having high SA break properties
- noted by the white ghastly flames surrounding the afflicted



Grudge Formation Buff and Debuff


- monsters within the AoE will have their SA break capabilities reduced to 0.
- grants additional attack and dark def to allies who are in the zone.
Fright
- debuff applied by Negative Ghost
- forces targets hit to lose their aggression towards the user
Soul Scream Debuff


- reduces target's ability to resist critical damage and increases the player's chance to deal critical hits.
Soul Eater Base Stats
(level 93)
Str x
Agi x
Int x
Vit x
Level 93 Build
(Proposed Build)
This build's sp investment leans on the most damaging skills.
Extra skill points left are for your preferences.
(Personal Build)
Note that this build utilizes the use of Skill Accessories and Weapon Costume.
Skill Explanation
Kali Tree
Soul Wind (lvl1)
- skill amp nerfed. Even with the additional 25% damage inc from level 6, skill quality is low.

Sting Breeze (lvl1)
- Only good in early levels. Can be used as an evasion technique.
- Adds as another juggling skill in pvp to force enemies to waste their aerial evasion.

Soul Kiss (lvl1)
- Executable only on knocked down targets. Covers a small AoE that can hit surrounding targets even if they're not knocked down.

Despair Needle (lvl 16 - max level)
- 3R boosted its damage and is one of the most powerful skills in the Kali Skill Tree

Fancy Turn (lvl1)
- Pushes enemies a step away from you. The last hit can stagger enemies.

Negative Ghost (lvl 1)
- A panic skill. Forces targets to lose their aggression for a duration. Duration of the debuff is 4 seconds at lvl 1, 6.5 seconds at level 6, and 9 seconds at level 11. Fright debuff is capped at 9 seconds at any levels above lvl11.
- Can juggle enemies launched in the air.
- Negative Ghost's debuff is negated in pvp.
- Debuff does not affect major bosses and high ranked monsters

Ghost Kick (lvl1)
- Learned this skill for evasion purposes. Landing a hit needs some precision. Usually combo-ed before or after Phantom's Rage for a faster landing. It also covers a so-so AoE and has decent super armor breaking capabilities.

Puppet Soul (lvl1)
- Works just like Escape and Urgency Trick but leaves a paper decoy to draw aggressive units and explodes after a certain duration. A nice skill to divert the enemies' attention. Can be activated after spirit twinge and ghost scream.

Phantom Guard (lvl 1 or none)
- Reduces mana consumption by 80%, increases superarmor by 200, and does mana damage recoil of 26% for 29 seconds.
- This buff could be a double edged sword if you don't know how to dodge properly for it can drain your mana pool. This buff is good to counter flinching (not SA breaking) skills.
Spirit of Genie (lvl 1)
- Increase your raw stats: Int, Agi, Str, Vit by 10% (nerfed from 80%) in a duration of 300 seconds.

Screamer Tree
Phantom Claw (lvl1)
- Useful in warding off and flinching enemies and hitting targets from a distance. Quite flexible since you can control the hands' speed and direction. Take note as it can't hit knocked down targets.
- Increased board damage from 3R. Considerable skill to invest skill points if it is your rpeference.

Chain Claw (lvl1)
- Mainly used to catch targets off guard and send them to the air
- Fast casting and as its name implies, you can use it whenever even during at midcast of a skill
- cooldown is reduced by 1.5 seconds every peak levels
- Increased board damage from 3R. Another considerable skill to invest points with but again, user preference.

Revenge Hand (lvl 11 or 15+1)
- It serves as a herding skill for Screamers. Summon ghost hands that forcefully pull targets into a center point and explodes after. Very good at gathering mobs. Its explosive effect can launch the enemies in the air. Also do note that it also has blind spots.
- Cooldown is reduced by 2 seconds every peak levels
- 3R gave huge boost on this skill. One to be considered investing SPs with. Its damage to cd ratio is *thumbs up*
Phantom's Rage (lvl1)
- Learned for evasion purposes. Usually combo-ed with Blitz Claw for offensive/evasive purposes. Provides you some air-time to dodge certain skills. What I like about this skill is that you can maneuver yourself either forward, backward, or sideways while performing this skill which can really help you evade more. Be warned as this skill possesses weak super armor. Cast Ghost Kick after for a quicker landing.
- Still a joke.

Blitz Claw (lvl1)
- Learned for evasion purposes due to its i-frame. It deals a good amount of damage in the process. Possesses a hit limit. After the first 2
- High damage growth with regards to dps/cd and dps/ct.
- Cooldown is reduced by 1.5 seconds every peak levels
- This skill can also be activated after turning step by pressing spacebar.
- Hit limit will be removed in future updates.
Rampage Claw (lvl 0)
- Stun chance is increased by 10% for every peak levels.
- Camera lock is applied.
- Additional damage (based on matk) for stun resistant monsters increases by 10% per level.
Phantom's Avenger (lvl1 or max)
- summons the phantom spirit to grant you invincibility status, increased action speed (30%), and decreased cooldown (30%). The initial phase/casting phase, before the ghost hands start to appear, has fair SA and can be interrupted.
- the four outer circles around you can also deal damage. You can successfully land the 3 outer circles on huge targets but requires you to be very close to the target (i.e when facing the dragon sideways).
- 3R increased its board damage
Spirit Twinge (lvl1 - 0)
- One of the skills that can be activated by using turning step like Blitz Claw and Ghost Scream.
- Deals okay damage with a frontal narrow fan-shaped range.
- The enlargement phase of the skill can flinch enemies.
Grudge Formation (lvl1)
- Heavily nerfed - No longer reduces enemies SA break, increases dark def, and is now a self-buff.
- Damage increase buff is at a constant +15% in all levels.
- Grudge formation does not grant attack boosts for allies in air.
Stigma Of Curse (lvl1 - 6)
- Mainly used for Branding ONLY
Level 1 - 1 talisman, branded status 17s

Level 6 - 2 talismans, 2nd talisman = 20% additional damage, branded status 20s

Level 11 - 3 talismans, 3rd talisman = another 20%, branded status 23s
- Has a good staggering effect. As a result, the second talisman will force targets to get knocked down. One of the reasons why PvP oriented builds invest points in it and even max it for the 3rd talisman as the 3rd talisman can push your targets further away.
- In our version, casting stigma of curse to an already branded target will not cancel it out. It refreshes the branding duration instead.
- branded status is now exclusive for increasing ammunition for Spirit Paper, Soul Gate, and Ghost Scream.
Summon Puppet (lvl 1)
- Nerfed heavily by 3R. Its voodoo mechanism is now reduced to an AoE damage debuff dummy that applies a debuff per wave.
- The puppet's HP(durability) is decreased every wave and can be damaged by enemy attacks.
- The puppet's debuff only activates when there are enemy units within its AoE range.
-old puppet info-
Ghost Scream (lvl1 - max)
- One of the skills that can be activated during Turning Step the others being Spirit Twinge and Blitz Claw. Learned as it can hit surrounding enemies 360 degrees around you when shotgunned plus it inflicts them with delay debuff.
- Delay is nerfed and stays at a constant 30% slow at any levels.
- Its cooldown still decreases by 2 seconds every peak levels. Increases the talismans produced when there are branded units.
- Delay recovery duration is increased by 1.5 seconds every peak levels.
- Learned this instead of Spirit Twinge due to having more utility and damage despite the sp requirement. Plus its benefit from the presence of branded targets.
Resent Area (lvl0)
- Beckons spirit hands to attack nearby enemies for every 2 seconds. The whole skill takes a while (every 2 seconds) and requires you to be in melee range for it to hit targets (and enemies with wide hitboxes).
Spirit Paper (lvl6 - 16)
- A very lovely skill~ Has the highest curse counter of all when maxed. Launch making sure that there are branded targets around to maximize this skill.
- Curse duration is increased by 2 seconds for every peak levels. Adds a coefficient of 1 for every branded target present on the field as it adds another bird shaped curse.
- Board damage is increased by 4-5x. One of our powerhouse skills now.
Cling Snake (lvl1 - 16)
- Works like EL's phoenix storm. Damage is maximized when the snakes are released at point blank aka shotgunned.
- Can hit knocked down targets and can flinch targets upon getting hit. The damage calculation is per snake. It has high dps capabilities in melee range, especially under ex mode. Never a skill to be spammed.
- Utility is majorly nerfed from 3R changes. Delay debuff is fixed at a 3% rate at any levels. Debuff duration is lengthened by 1 second every peak levels.
- Despite the major nerf in utility, the board damage is incerased making it another powerhouse skill.
Soul Gate (lvl15 +1)
- Opens a dimensional gate that summons the souls of the unrest. The gate stays on the field for 11 seconds.
- Can also hit knocked down targets and has a 10 second curse counter. Quick cast time, deals good damage, plus curse damage. Must max. Deals maximum of ten hits on lesser mobs and 15 hits on major/large bosses (+ more when there are branded targets)
- Each additional soul taken from branded targets is equivalent to a coefficient of 1.
- 3R further increased its board damage making it more powerful.
Beast Spirit (lvl 11 - max)
- Covers a wide AoE for mass curse afflicting. Has three damage phases: (1)The summoning phase where the wolf emerges from the Screamer (2)The wolf's landing (3) The howl.The howling part of the skill animation has high SA break capabilities. Can send knocked down units spiraling to the air. Same as Spirit Paper, curse duration is also increased by 2 seconds for every peak levels.
- 3R gave a huge boost on its board damage.
Dragon's Soul (lvl2)
- One of the coolest ultimates ever! Wide AoE, high suction power, and can inflict delay status. And it doesn't stop there. It grants an additional 15%(and even more) damage to cursed targets. lt grants us a short iframe during the kneeling process and possesses high superarmor throughout the summoning ritual.
- Note: More souls, More power. <3
- With its benefit from Soul Scream from the recent update, Dragon's Soul's usability is raised and very note worthy for bursting.
Increase Soul (lvl 1)
- Same concept as EL's shields but instead of giving you improved defenses and superarmor with the price of mana, Increase Soul pumps up your magic attack with a price of hp. More magic attack means stronger skill damage and more potent curse damage. The hp redux is negligible actually for the matk boost it provides. The great feature to this is skill is that it is toggle-able.
- now gives a constant +17% additional matk and drains 415 hp every 2 seconds.
Soul Eater Tree
Spirit Paper Ex
- Now even more annoying as it adds 2 more bird talismans and another one for imprinted targets.
- The Ex passive addresses the lack of flinching ability of Paper Spirit by changing 30% of the bird's attack into explosions. Take note that each bird-shaped curse still carries only a coefficient of 1 (70% contact damage and explosive damage). The actual boost comes from the additional 2 bird-shaped curses that are added.
- Gains a boost realtive with it nonEx version.
Cling Snake Ex
- Additional 15% damage PER snake.
Ex mode grants you larger snake
s and an additional snake (which is another +1 coefficient). They now can bind enemies for 3 seconds.
-

Gains a boost realtive with it nonEx version.



Soul Gate Ex
- Produces 6 waves instead of 5. The waves consist of 4 sets of small spirits and 2 sets of large spirits. Another powerhouse passive skill as it increases the damage of the small spirits by 10%. Large spirits deal 2 types of damage, contact and explosive damage. The large scale explosion has high SA break.
- The number of spirits summoned is increased depending on the number of branded targets on the field.
- Big Spirits deal 400% damage, while small spirits deal 110%.
-
Gains a boost realtive with it nonEx version.
Beast Spirit Ex
- Adds additional wolf clones emerging from the original wolf forming a V-like formation. Each wolf clone's AoE is 1/2 of the original wolf's AoE and deals 20%
damage per wolf clone.
- The stagger effect of the wolf's landing is changed to knockdown.
- Take note that the wolf's jumping distance is halved from the non Ex.
-
Gains a boost realtive with it nonEx version.
Specter of Pain (lvl9)
- 10m range and can pierce through enemies and has a very fast cooldown of 7 seconds. Stacking the spirit curse (up to 3) is best done on heavily mobbed areas and on bosses (obviously). AoE explosion has high SA breaking properties and covers a wide area..
- Explosion damage can also be trigggered with just one spectre on pooled mobs .
- The piercing nature is only removed in pvp.
- 3R gave a huge boost to its board damage making it worthy of its name.
- Our main bread and butter skill.
Soul Scream (lvl5)
- This is one of our key skills during burst windows.
- AoE of the skill is nerfed.
- Debuff is nerfed and is now at a fixed -20 crit resist redux and +20% crit rate.
- Debuff duration increases by 1 second at peak level.
- Still enhances Dragon's Soul's damage
Spectre of Pain Ex
- Ex passive allows you to launch another specter (can also inflict a layer of ghost's curse). Casting speed, specter movement, and AoE are increased and the explosion damage is increased from 100% to 300%.
- The added specter deals 50% of the initial specter.
- This is our new bread-and-butter skill. It's just.. excellent.
- With the 3R boosts, Spectre of Pain lives up to its name. This is our major damaging skill with its high damage amp paired with low cd.
Class Mastery I
- Formerly known as Pain.
- Deals 10% non elemental additional damage to Cursed Units.
- Additional damage is presented with a "+" sign.
- Spectre of Pain and Dragon's Soul can trigger this ability up to three times.
(Fixed)
Class Mastery II
- also known as Cling Snake EX instant
- Upon using Turning Step, Cling Snake is changed to an "instant" (yellow-framed) by which it can be used for the duration.
- Upon activation of the instant, it releases snakes outwards in a 360 degree fashion and grants an additional attack buff of 5%.
Edited by TimeFox, 22 October 2016 - 02:05 PM.