I.)
Skill Build Guidelines (mainly PvE based)
I.I) Disclaimer:
As you may have noticed, I didn't took the time to make a 90 cap guide since given the fast pace of the updates, there was no time for me to actually complete my gears and skill build. Even at the end of 90cap, I was having issues primarily with my own skill build, given its SP constraints.




Another reason why I didn't bother making a 90cap guide for Moonlord's is that, our brother Gladiator's got a penultimate boost thus, rendering us on the same playing field, back in 90 cap.



This 93cap build of mine is still raw and could change. Rest assured, you my readers will be thoroughly informed as I try to eliminate the SP constraints and give the Moonlord a more hybrid setup. In addition, I am only to provide 1 core and dedicated skill tree (before was 2 different skill builds) since, the SP constraints just eats up the SP's or limit me from adding more SP's to certain skills. This is clearly seen below on the Sword Master Tree.


This build still retained some of my original skill build from 50 – 90cap for flexibility and mob control, but definitely had to focus SP's onto the awakening tree prerequisites, given its strict requirements (e.g. maxed Eclipse for Eclipse awakening).



It is highly recommended that when you are revamping your skills (e.g. via Skill Initialization Scrolls, Change Jobs from other warriors > Moonlord, or Oblivion Contracts) that you must remove all your +1 skill accessories, weapon costumes, and the +1 skill plate (Cash Skill Plate). These things affect your skills and you may wrongly assume you met the initial criteria for the awakening tree and decided to throw the excess SP's to either maxing other skills that doesn't even fit the awakening tree criteria nor recommended.

Main element I have is Dark Element. However, with 90cap's element changes basically lets you choose the best element that you think is the cheapest, easiest and more beneficial for you to attain. Nope I don't have tough accessories.
I.II) Skill Build: Warrior Tree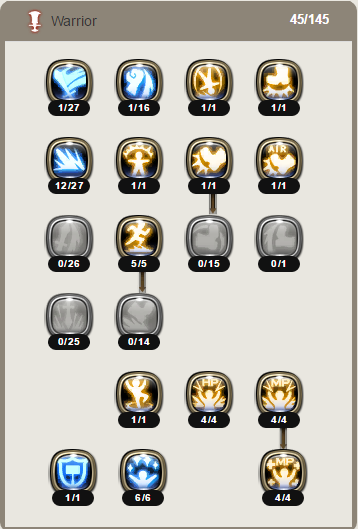 Key Notes ~
Pretty straight forward. Nothing to explain further. Though 1 important thing to note here, is how I distributed the SP's, mainly, focused majority of my SP's through Impact Wave only. Not really a fan here of Circle Break. However, it's still optional to get Circle Break and level it up to 9, then leave Impact Wave to Level 1. I get it some Moonlords, prefer Circle Break's iframe and damage over Impact Wave's puny damage.



Getting Sweeping Kick or Drop Kick is optional. I just went for Drop Kick for that extra airtime.

Maxed Dash. Duh But seriously, I hate the new dash animation. Has that "wave" thing when you run. I like the old dash better.


Skill build has all skill accessories, weapon costumes and skill +1 plate taken out for a better glimpse of the skill build.
I.III) Skill Build: Sword Master Tree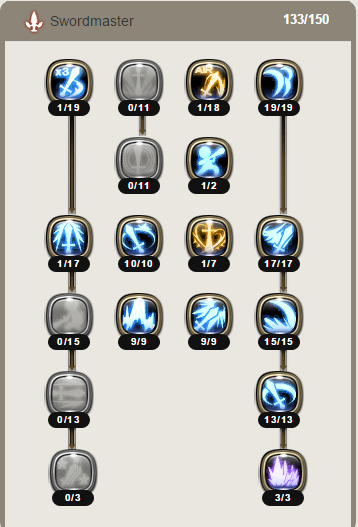 Key Notes ~
My previous skill build (90cap which I haven't given a clue about), had a maxed Triple Slash. However, this cap, with its outrageous SP constraints and awakening skill tree issues, I had no choice but to drop it again back to level 1. Front Shove is more of a filler skill and its back step iframe still has a lot of use. Also, there's a perfectly good reason why I still kept this 2 skills and will be explained later.


Maxed Eclipse, Provoking Slam – Prerequisites for the Awakening skills. Strictly required.




Maxed Cyclone Slash for the Awakening tree is a must. Extremely spam-able and also your main bubble source to be able to cast Moon Blade Dance EX, Half-Moon Slash and Half-Moon Slash Instant.



Maxed Half-Moon Slash. Damage of this skill (given if geared above average or heavily) is exceptional and is on par with Moon Blade Dance. High burst, low bubble consumption spam-able. Consumes 5 bubbles whether you cast this the normal way or using the instant method.

Level 1 Parry Stance. Great life saver especially if some stomps, counter attacks or direct attacks can be blocked. Best casted if you are in need of blocking while casting other skills (e.g. casting Cyclone Slash but you need to defend/block. You can cancel Cyclone Slash by simply pressing the hotkey for Parrying Stance). Works roughly similar to Evasion Slash from Gladiator's at the cost of giving up on casting other skills for defending. Used to have this on level 2 but, thanks to the SP prerequisites of the Awakening Tree and its SP constraints, dropped it to level 1. Spam-able though, a 5 second cooldown is worth it.

Maxed Crescent Cleave. Given the correct positioning and making use of the focused version (pressing back [S] before skill cast) this skill still proves it worth. Highly recommended to be both skill plated, having the Necklace + 1 skill accessory will have a great effect. Though used to be 2 hits at once, recent revamps made it to 1 hit only but the board damage is greatly increased. I guess that's fair in all honesty.


The rest are pretty self-explanatory like a maxed Brave, Great Wave, level 1 Aerial Combo and Counter Exile.




Skill build has all skill accessories, weapon costumes and skill +1 plate taken out for a better glimpse of the skill build.
I.IV) Skill Build: Moonlord Tree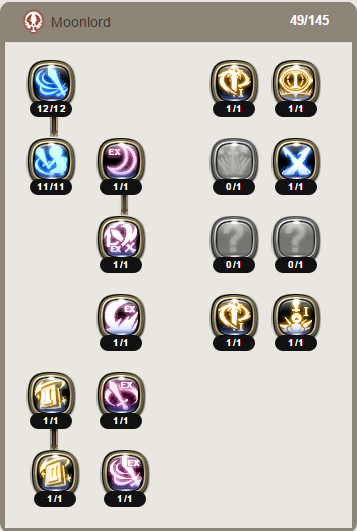 Key Notes ~
Pretty straight-forward build. This is the only skill tree almost all Moonlords have in common.




Maxed Flash Stance. Optional skill leveling for Flash Stance will be at the player's disposal. Deals average damage for a 10-second cooldown. Generates 2 bubbles for every successful hit on any mob or foe.



Moon Blade Dance (non-EX) vs. Moon Blade Dance EX. Personally, this is down to sheer self-preference. I still prefer the EX version due to its hit count and obviously, its damage. The 200% Helm Breaker (descent wave upon left clicking once the 1st 5 waves are released) still offers a heck-a-lot of good damage and hit count. I understand others prefer the non-EX version simply due to spamming even though it's really quite easy to regain 30 bubbles back. In addition, this is your main source for reducing the cooldown time for Smash X in the Awakening Tree. Consumes a full 30 bubbles upon cast. It is wise to use this skill when Brave is buffed (self-buffed) and you have 50 bubbles.


Half-Moon Slash Instant. For those who don't know yet, this is our new instant skill after removing our previous instant which was Flash Stance instant from Tumble > Flash Stance which fire off 3 waves at a time that lasts for 2 seconds. This new instant of ours combined with the low cooldown upon casting Provoking Slam, makes Half-Moon Slash effective for damage burst and mob wipe guarantee in seconds. Consumes 5 bubbles whether casted using normal method or using instant method.




Skill build has all skill accessories, weapon costumes and skill +1 plate taken out for a better glimpse of the skill build.
I.V) Skill Build: Awakening Tree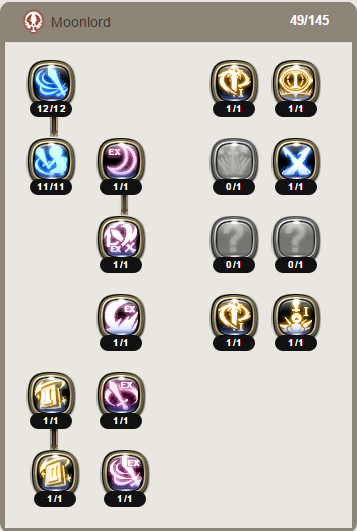 **Just look at the right side of the image**
Key Notes ~
Immediately, you'll notice that I didn't take Moon Blader. Reason is quite simple. It's a Sacred Hammering rip-off skill from our brother Paladins. Yes, I do know it reduces the cooldown of Smash X 2-seconds if this skill hits successfully. Then again, the animation of the sword energies can't hit the air even if I tilt the screen pointing upward. The skill has a screen-lock animation and can't change direction. Has a stall time of about a full second. Unless I get an Evasion Slash-like skill (aside from Parrying Stance or Eclipse Awakening) that offers iframe and high SA and SA-Break, there is no way you can include this in your rotation of skills. Besides, Moon Blade Dance (whether EX or non-EX) reduces the cooldown of Smash X far better than Moon Blader. I would say this is an optional take for anyone who want to test out the skill for themselves. But personally and in all honesty of an opinion, not worth taking/casting a skill that could get you killed while blindly clicking left click. If you're fully knowledgeable about the Moonlord's skill rotations, reducing the CD of Smash X is easy as eating cake.

It's a must you met all the criteria's for getting the Awakening Passives namely;

Maxed

Moonlight Splitter, Cyclone Slash, Provoking Slam and Eclipse from the Sword Master Tree. If these aforementioned skills aren't maxed, you won't be able to take the awakening skills for them especially if you lack SP's.

Awakening Cyclone Slash provides a faster cast time. Needless to say, accuracy still isn't an issue, even with the faster cast time, you can hit mobs and or large to extra-large bosses accurately. Only issue I've faced with this awakening is the very big cyclone in front of me. If I ever go in the center of the cyclone itself, I'm experiencing FPS drops. Other times, especially on cramped ways on the dungeon/nest, sometimes, blocks my view. Also, this is your main source of bubbles as this generates 10 bubbles per cast with a low cooldown (6 seconds), ideal for spamming.

Awakening Moonlight Splitter. Used to fire off 3 'crescents.' Upon getting the awakening for it, it's re-animated to cyclones. One disadvantage upon taking its awakening version is that, the ability of moonlight splitter's to hit aerial targets (e.g. cyclone slash lifts tiny mobs, adding MLS ensures combo's are retained) has been eliminated. Greatly effective on large bosses (e.g. Golem toadstool at close range etc.) when all 3 mini cyclones are caught by the enemy. Generates 10 bubbles upon cast. Same CD time and still ideal for spamming. The 3 cyclones you release, generates lift effective for tiny mobs (e.g. goblins).

Awakening Eclipse. Generates 10 bubbles upon cast. Like Evasion Slash from our brother Gladiators, you can use this skill to cancel any skill, mid-cast (except Moon Blade Dance and other aerial skills) by tapping the space bar. Maxed as required. It also lowers the cooldown time of it by 1 second per each level you up it. At level 10, cooldown is around 9 seconds. If you like spamming this skill a lot, getting the Cash Skill Plate +1 and a Skill ring for it is quite a good call. At level 12, the cooldown time is 7 seconds. Releases 4 cyclones on 4 key directions (North, South, East and West directions) as well upon cast. The cyclones generates lift upon hit as well similar as to what cyclone slash does. Effective for tiny mobs (e.g. goblins).

Awakening Provoking Slam. Skill cast is re-invented to have more frontal and side AoE (Area of Effect) and a more epic animation. Debuff is still capped at 20% (Physical and Magical debuff) but to get the awakening, the provoking slam from the Sword Master Tree should be maxed. Another good thing about this awakening skill is that, it generates lift, highly effective for PvP when your foe is knocked down and is about to counter attack. This is your trigger (both normal and awakening) skill for Half-Moon Slash Instant. Does not consume bubbles.

Smash X. Yes. Every Moonlord's favorite new skill. It's basically a Gigantic Bomber (Mercenary Ultimate Skill) + Great Wave (Sword Master Ultimate Skill) rip-off skill. Extremely powerful for a 2-pronged hit count. However, limited to a very close range. So melee that, if the mob or boss you're trying to kill using this skill moves just a little further, it's an auto miss already. So with caution, before using this skill, always make sure to predict a bit the boss's movements and always try to judge the distance between your Moonlord and the boss/mob to the best that you can. Cooldown is 80 seconds, which is our longest cooling down skill (excluding Great Wave), but can be reduced when Moon Blade Dance hits foes directly or accurately. Reduce the cooldown time of Smash X by 2 seconds when either Moon Blade Dance or Moon Blader hits accurately. Highly recommended to use this skill if Brave is up and you have 50 bubbles. DOES NOT CONSUME bubbles upon cast making it a high burst skill. Effective against large sized bosses to dragon sized bosses, especially if non-mobile ones. Also, effective for SA break mechanics in nests or raids.
==================================
II.)
Test Run
Edited by Luxtroll, 14 October 2016 - 10:57 PM.