Well, it's about time somebody recorded these wars the DN SEA forum had experienced. Though this probably won't be seen by many due to it's placement in the Cafeteria, it should shed some light on the history of these sacred forum battlegrounds.
Please remember that some of these are is based off my memory, so some information may not be 100% accurate, but for the most part, should be on par with the actual event happenings.
The History of the Dragon Nest SEA Forum Wars.
1. The Racism War + The Legendary Lion of Lagendia (Mid-September 2011)
In the early days of OBT, there was some tension between some of the forum community and the wide influx of Filipinos joining the game. This tension grew as certain hate threads started popping up from certain members of the community such as 'Collute'. He was basically complaining about the Filipinos in the game and how they were lagging up the game. The war started more or so over time. Many threads started popping up in General Discussion about hating pinoys and chaos ensued. Forumerers were raging and arguing with one another on those threads, and soon some people couldn't take it and they also created other race-hating threads like the Singaporean hate thread, and the EU hate thread. Racism remarks flew left and right and it was a heated battle between the entire forum community.
CC eventually stepped in and took the necessary action of shutting down all racism threads.
This racism war also made
The Legendary Lion of Lagendia
known, as he was one of the forumers who couldn't take anymore of Collute's Filipino hatin'. He created a thread named something around the lines of 'F*** You Collute The Racist A-hole' and it drew attention. The forum community was somewhat amused by this thread, and people soon started thinking he looked like a lion due to his avatar (originally, the TS described Collute as a fat keyboard warrior...but was flamed for looking just like one). The topic eventually shifted from the big F U to Collute to the TS looking like a lion thread, and the trend of using the '
', quoting the person who said it, and replying with another '
' stemmed from this thread. Thus, The Legendary Lion of Lagendia was born, and this was his legacy:
Collute was eventually banned for his race hating threads even though he tried defending himself by saying it wasn't 'directly' pointed at Filipinos but everyone knew it was.
This sums up the very start of the DN SEA Forum wars IIRC.
2. The Embed War (Late September 2011)
There was a frequent forumer known as 'Alchie', who was also known to post ponies in almost every thread. There was some division between the forum community. Either you liked the ponies or you hated it. Alchie sooned gained popularity among the forum community for being a person who just, well...liked ponies. One time a thread opened up named 'Chatbox' and the idea of the thread was basically what it said, to chat about random things or off-topic disucssions.
The thread soon became popular to about 10+ pages, then the strange sounds started happening. At first people thought it was some weird bug happening within the forums but it came to be that Alchie had hidden a embed code in her post, making it autoplay music the moment somebody entered the thread. Another forumer discovered the source of this, spread the code, and soon everyone in the chatbox thread was playing music.
The chatbox turned into somewhat that of a music thread with people posting their favorite songs or deciding what to play next. This thread also spawned the Pedo Faction, with early members like EakEak; the Pony Faction, with Alchie; the Lolcat Faction, with some people I don't recall, and the Dance Team, with members such as Vartue, LauraBodewig, and Lemon who had dancing/dancers in their signatures. These Factions had different goals and figures to look up to, but they all shared the common goal of bringing fun to the forums. They are still allies with one another to this day. Due to its high popularity, more people starting coming to see what the thread was all about, eventually leading to the leak of the embed code. The embedding was supposed to stay in the chatbox but due to the leak, people started hiding autoplayed music in their posts, making threads a trap that could cause ear damage or psychological scarring.
The original inhabitants of the chatbox were afraid this would go out of control, and by my thinking, the person who started it (Alchie) and her ponies were probably too much for our next war starter to handle.
3. The meatspin War (Late-End of September 2011)
Soon after the embed war was in full swing, a random forumer decided he/she (I shall call 'he') had enough of Alchie and her pony shenanigans. He proceeded to start spamming multiple threads with the taboo-ed 'meatspin' gif. If you don't already know what that is, I strongly suggest you
do NOT
look it up, it will scar you and unless you want to see men's 'meat' spinning, don't look for it.
Everyone was stunned by this sudden appearance of this extreme gif that tricked many people long long ago, but it eventually turned into an unspoken taboo. The forumer not only spammed the gifs, but the gif also came with it's trademark 'You Spin Me Right Round' soundtrack. The gif was spammed countless times on multiple threads causing chaos and confusion among the forum community. These eventually hit the 'Chatbox' thread and caused people in that thread to retaliate by spamming pages with spam if the person posted that gif in order to skip to the next page and keep some 'order' within that thread. It was a unified attempt by the members of that thread but the war was tough. His reasoning was that he hated Alchie posting ponies and wouldn't stop in order to get back at her. Alchie was taken aback at how far this person went to get back at her and said she would stop, but he continued his assault on the forums.
CC eventually stepped in to remove all of the explicit content and threads, but that wasn't enough for that person to be satisfied.
Side Story: GoreFag
Around the time between/during the meatspin and Tentacle War, there was a forumer who appeared out of nowhere posting pictures of gore all over random threads. This unknown person was only known by his mind-scarring pictures and the forum username 'GoreFag'. The pictures were more of a surprise trap to innocent people already trying to be catious of the meatspin and tentacles, but now they also had to be wary of the gory traps that awaited them. His pictures ranged from deformed pictures of faces to the extreme...which I shall not describe for the sake of trigger happy googlers.
CC eventually removed GoreFag's pictures but I believe him and his account remained on the forums. I did remember seeing him posting again, just without the gore.
4. The Tentacle War (Late September 2011)
After the meatspin war was over, there was temporary peace in the threads and forum and most of the community breathed a sigh of relief that the ordeal was over. Though a few people still posted some autoplaying music in threads, everyone knew it was better than seeing the explicit gif.
That same forumer who was banned for his explicit content created a new account under the name 'Tentacles', and I believe it was either after a few hours or a day, he came back and started posting tentacle porn in threads and using it as his signature. His same tactics resulted in the Chatbox community going into full alert and armed themselves for the incoming storm. The pictures were posted and the spamming for the next pages ensued.
CC had learned their lesson from the previous war so they probably decided to take action sooner than later, thus making the Tentacle War more of a secondary aftershock of the 2nd forum war. The threads and user were removed from the forums and after that there was peace among the community.
Intermission Side Story:
CC Generator
Right after the Tentacle War, the problems the DN SEA forums had faced seemed to have finally cooled down. People were starting to come back to threads being actual threads, and not places where there were hidden music traps or gore pictures awaiting them. During that time, a certain spammer decided to be an annoying prick, decided to plague the forums with his spam threads of CC Generators. They were more of annoyance to everyone due to their spamming being in almost every section of the forums.
Most of the community knew of the obvious scam the prick was trying to make but they knew not much could be done until CC stepped in, which they did.
CC eventually came in once again to clean up the mess and I believe the forumer was banned for false advertising but...that wasn't enough as I believe the person came back again with a new name to spam a few more times before being removed, then the spamming stopped.
5. OPERATION FREEDOM (Late September 2011)
Once The Tentacle War ended, the Chatbox was deleted, most likely due to CC's paranoia that another war could take place again. All 68 pages of the off-topic thread were erased from the forum, not accessible to anyone. The surviving members of the chatbox decided to start anew and created a new chatbox under the name 'Calderock Village Family Pub' in the General Discussion area but it was soon moved to the Cafeteria, where we are now. Alchie led the team in the pub to start a protest in the forums, deciding that the Dragon Nest forum General Discussion
should have an off-topic thread
. Many people in the pub agreed to this idea, and the preperations started.
The template for the protest was meant to be a peaceful one, just wanting to state the point from the community that there should be an off-topic section
within
the General Discussion or Dragon Nest area, not in some dead cafeteria which nobody visisted. Alchie soon came up with the protest template...something I didn't really approve of but nonetheless supported because I really did want an off-topic section for the DN area:
The pub group then decided we would strike at a certain time and create multiple threads with this picture in it for us to prove our point and pressure for CC to approve for this simple request. The time struck and the pub team went into action. Mutiple threads named 'OPERATION FREEDOM' were created in the General Discussion, with many in the community being somewhat confused to this action. I think it was the 'shopped pictures that didn't make a good impression.
CC, not willing to approve of this request, came down with their mouses, locking and deleting most of the freedom threads.
Alchie was later banned, most likely due to causing disruption for the CC team and them having enough of her. Soon after, Alchie came back with a second forum account, and notified the Calderock Pub that she would be leaving for a holiday trip to Russia, but would be on the forums. Not to my surprise, Alchie did come back only to post a few things, stating that she was waiting for DN EU, whenever it came out, and later disappeared. She made an appearance recently to state the same ideas of waiting but has once again gone off the radar.
6. The War for AikawaKazu (Early-Mid January 2012)
Raexius (w/ some minor adjustments), on 2012-01-15 13:44:03, said:
It all started when some guy named 'icenold04' wrote AikawaKazu's name in a scammer list thread.
This, along with accumulated burden and pressure from the community, caused AikawaKazu to get sick of it and declared that he would not post and write guides anymore in the forum; specifically in General Discussion section.
His statement caused a pretty big uproar and 2 factions spawned from this, namely the

defenders

and

haters

(there's no specific names for these factions).
People from both sides started making lots of topics either defending or defaming AikawaKazu.
The fights were mostly haters bashing AikawaKazu with defenders saying how much he helped them while some also accused haters for being jealous and unreasonable.
There were some neutral forumers who tried to stop the war but most of them ended up being labelled as defenders if they were to participate.
In the end, when everything calmed down a little, icenold04 created a topic titled 'Public Apology' and apologized, saying that he intended his accusation as a joke.
AikawaKazu accepted his apology but still refuses to write anymore guides in the forum.
This is a really brief summary of the war based on my very limited memory so it would be very helpful if anyone would add more or correct any mistakes if any.
7. The Fairytail Declaration (June 10th, 2012)
On June 10th, 2012. The Guild Master of the very well known Fairytail guild posted a delcaration in regards to the SDN (Sea Dragon Nest) challenge, where the fastest team to complete the dungeon would win $10,000 SGD.
Fairytail Guild Master, xJuviax said:
Declaration:
FairyTail (Westwood)
was founded since CBT with the initial purpose of gathering players with a common passion for Dragon Nest.
Although our members have experience in the DN services of other countries, we are proud to call DN SEA our home, the community where we truly belong.
Born from our burning passion, a single goal was forged for the greater purpose of being the best DN Community. To this end, we strive to show the best of DN by sharing our experience in gameplay and teamwork with the community.
Our belief is that to honor this ideal, we shall abstain from accepting monetary gains from taking part in in-game events.
Any guild members of FairyTail may take part in any events but shall not be eligible for any monetary rewards.
Should other guild or team accept any existing FairyTail members, that team will be equally ineligible to receive prizes. Future FairyTail Guild Masters are not allowed to change our founding goal.
In the event that they do, We seek CherryCredits to disqualify the participating team, or if necessary, disband the guild without prejudice.
We also hope that CherryCredits and the DNSEA Community can recognize us as a part of the DNSEA Community, as one of the few pioneers to explore the Sea Dragon Nest, and hopefully one day, defeat it.
We seek CherryCredits personnel to reply on this matter.
IGN xJuviax
GuildMaster
FairyTail(WestWood)
This declaration slammed into the General Discussion section like a bucket of cold water on everybody's faces. Nobody expected the well respected guild to release something like this and it sparked a 6 page long debate on the validity and contradictions of the post, with some agreeing with certain points, and some flaming it for its overzealous remarks in terms of guild honor.
Taking the declaration apart, it basically stated that the guild did not want the money if they won the event, and would go so far as to disqualify/disband their own members/guild if need be. They also requested CC's intervention on this issue to bring down their hammers of doom, as if to say the authority was always on their side.
Apparently, it was.
One of the lead producers in DN SEA, also known as Mr. Addison Kang, replied with a post that boosted the confidence of Fairytail while generating a storm of hate due to (obvious) bias towards the guild.
Addison Kang said:
I was told by my staff to visit this thread.
Let alone the declaration, FairyTail have display exceptional skills and dedication to DN Sea Community. I'm sure many players agree that this is already an honorary Guild. Good job on this part
It is an important task to upkeep values of it's founding members. The lack of a constitution or a formal registration of this body make it hard to formalize or maintain the guild's order. I was astonished by the guild members for being able to make such swift and bold decision. Taking a small step anchoring such principle is a giant leap towards a noble self-help community.
This is a special case, a Guild's commitment that uniquely benefits the entire community. Therefore, I'm please to task the Chief Marshal to undertake the task to assist FairyTail mission, in up-keeping their values. We should learn from FairyTail's benevolent institution; "intended for benefits rather than for profits".
I believe FairyTail is so far the closest to bring down SDN and have the highest chance of making the achievement. You can almost call them a Saint Guild for rejecting those rewards. Join me in cheering them to bringing down the SDN and for their future contribution towards the DN Sea community.
What this basically meant for the rest of the DN SEA community was that Fairytail would have exclusive rights to uphold their "honor" and have the assistance of the CC staff to bring down doom on all that opposed them.
Not only that, but if the declaration were true, it would also be true to say that any team attempting to clear the SDN dungeon would have to make sure there were no Fairytail members in their party or it would result in disqualification. This "fact" enraged many of the forum community, and it was understandable as to why some lost respect for this guild and its members who supported this idea.
Some forum members also took pity on those within the Fairytail guild that would have to comply with this declaration, as it basically gave them no choice but to follow it to the letter or face leaving the guild. The hints of arrogance from the declaration were also debated among the forumers, shedding new light on Fairytail that will either stain their reputation or honor. Defenders of justice such as Sakasen deserve a spotlight for their efforts to debate the declaration logically, and without needless trolling.
Ignorant posts from some of Fairytail's members included statements that basically said they posted it within the General Discussion and shouted it in-game for all to see and hear because they
hoped
it would
spread the word
(okay sure) among the DN SEA community that they had this special thing going on with CC.
A CC moderator stepped in soon after to close the thread
for the love of justice
(JUSTICE INDEED).
As a long time resident of the DN SEA forums, I can say that
this is
not the first time i've seen CC show bias towards guilds/members.
It's an ugly reality that appears once or so in a awhile but it sickens me to see it when it happens. However, since Addison Kang is never seen on the forums (and claimed that he was asked by his staff to read it), it is very surprising to see the amount of bias that comes out from the top heads so openly and direct rather than the usual CC forum staff who know how to control their words.
Just saying, this isn't something to be proud of, CC.
As much as you want to respect the honor and values of certain guilds/members, please do think about the rest of the DN SEA community, and understand what they have to say before saying something stup- that will spark conflict while intervening with all your might and glory like nobody else matters.
8. A Jackal's Demise (November 2013, Suggested by mudo & desofire)
Back in September of 2013, CC brought the
Desert Dragon Nest event
to the shores of DN SEA. Being part of the competitive spirit, the event offered various rewards and titles for clearing the dungeon as well as an exclusive 1-time-only "Jakard's Demise" title that would be bestowed to the first team that cleared the dungeon.
Guilds and teams alike went at the event in full force and the first 8-man team to secure the dungeon came from
Ikebukuro
, a guild from Westwood. Being the ones to clear the dungeon and secure the title would have given them an outstanding reputation within the Westwood community.
However, the victory was short lived when ZawZaw, a guild member from Ikebukuro, decided to come clean and exposed a chatlog between guild members that revealed the way they managed to win the titles - they bought it.
Simply put, the team was outsourced to a group of skilled players from cDN (Dragon Nest China), which piloted the DN SEA characters to secure the dungeon. The "team" consisted of a 7-man pilot team from cDN and 1 original guild member, equating to a cost of $700 SGD (7 pilots, $100 each) for their services. After some internal conflicts within the chat, ZawZaw decided he had enough with one of the guild members' attitudes (and perhaps the guild attitude in general) and decided to post the
conversation
that went down, in the forums.
Chat by ZawZaw, 21st November 2013 (
Wall of Text
):
The thread was soon locked by Moderators to shut down speculation but a day later ZawZaw received and posted a
new message
from the staff themselves.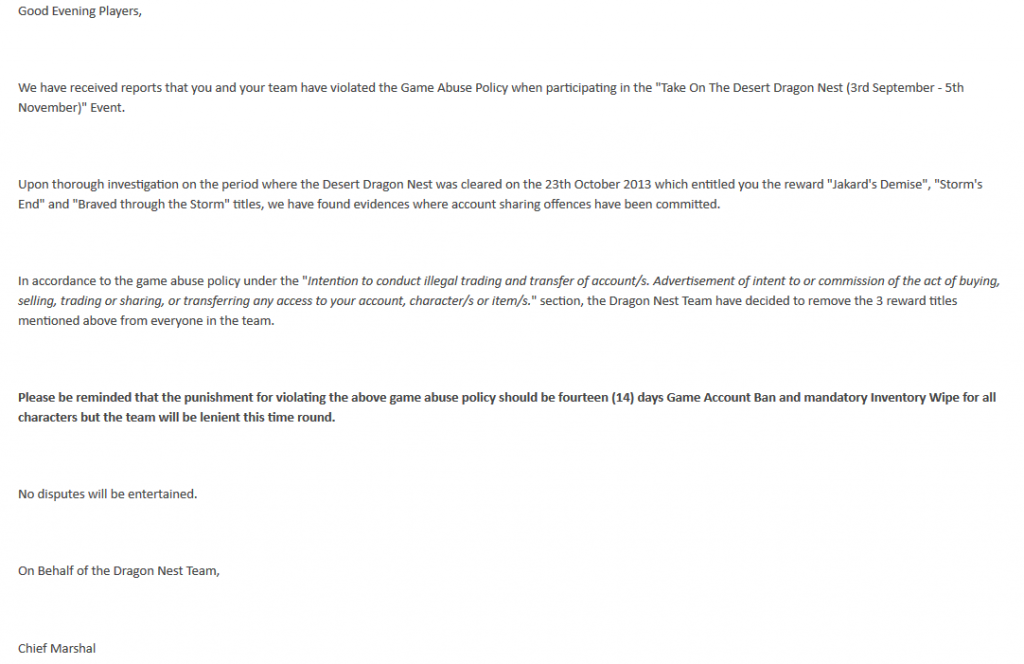 With this screenshot, it sparked a sense of controversy among players. Some speculated Ikebukuro being a guild with many high CC spenders (Cash Shop Buyers) thus resulting in the leniency of their "sentence". A moderator named
Mikasa
came in to try and clear the air with a definition of policies and rules regarding their penalties as well as the argument that the guild was just trying to attain a prestigious title, rather than something that would affect the game itself (eg. gold selling) so only their titles were taken back.
A
third thread
was created as the final one by ZawZaw, which "notified" CC of under-the-table deals being made once again for a different "memorial event". It was locked soon after.
A few days after the whole fiasco had gone down, a forum member by the name of
Arrogance_
decided to
call out CC
(and Mikasa) on their lenient decision towards Ikebukuro and tell them that they should have enough respect for themselves to maintain strict rules on their own game. Forum users discussed the issue among themselves - and argued a bit for conflicting views for about 14 pages of text before Mikasa came back in to try and clarify questions forum users had.
She explained it that too many accounts would be banned if they were based solely on account sharing and the statement it had within the Game Abuse Policy only really served as a warning to people attempting to do so. Getting down to the main point, she couldn't give a good answer to the community due to confidentiality issues.
Quote by Mikasa:
"Please bear in mind the constraints moderators have when addressing issues. Everyone demands for a reply but when one is given under the said constraints, it is not appreciated but used as a counter-argument to blast CC/reply instead. I've tried to give a reply which will satisfy the community to the best that I can."
With that, the thread was locked and though some remnants of other threads remain around in regards to the issue, this brings us to the demise of a famous title and infamous guild that will probably never be seen the same way again.
Intermission Side Story: Jasmine's 2 Day Last Stand (4th December 2013, Suggested by mudo)
A
scheduled maintenance
set to complete with 15 hours? Turned out to be 44 hours and 35 minutes of life without DN SEA by your side.
Players took to the forum to vent their frustration without the game for an extended period of time and hoped CC would give them an expected completion time and some compensation such as a free reset scroll or cosmetic items.
Comical threads about being bored and having a life outside of DN popped up but were close shortly after.
9. Leniency Package (December 2013, Suggested by YondaimeHokage & mudo)
Shortly after the Ikebukuro scandal, our friends in GD discovered a thread that was deleted soon after its creation. The contents contained a fake advertisement for the availability of a "Leniency Package" for purchase. By its statements, one would technically be immune to CC's rules and be free to do as they wish within the game; scamming, cheating, item duplication - all of it would be fair game as well as the CC team being on the purchaser's side to shut down any accusations players had against them.
Picture by
Esquevella
Of course one would only need to top up a minimum of 2,000,000 CC Credits to qualify for the package and would receive it depending on how fast they verified their purchase of credits. The satirical piece might have been spawned from the previous instance of leniency shown towards Ikebukuro when they came forward to announce their scandal of piloting players for titles (see 8.).
Some players claimed that although it was a fake article, it truly reflected
how they felt
about CC's control over the community and how cash shop items were
destroying the game
as well as the experience for players (eg. spending loads of CC for cosmetics as well as high level gears). Several other satirical threads about being lenient spawned over the period but were all locked down by CC.
If there's one thing we can learn from this, it's probably along the lines of what one user had to say...
"DON'T USE THE WORD LENIENT, I TELL YOUUUU! JUST DON't!"
-
defuze
10. Project SaveDN (October 2014, Article by truedistance)
truedistance, on 16 November 2014 - 08:59 PM, said:
Anyway, I have enough free time to work on this thread, so allow me.
Project SaveDN (October 2014)
In light of the deteriorating sentiments towards DNSEA and Cherry Credits, AikawaKazu wrote a blog article about the current problems of the SEA server and several suggestions that aim to remedy those issues. (Original blog post link here:
http://www.dneternit.../projectsavedn/
) The article cited class-related issues like discrimination and skill balancing and the effects of RNG in gear progress as major issues that need to be addressed, and it suggested the creation of a means for players to send out feedback to developers about the game.
The article was met with optimism during the day after the publishing of the article. Many players, both retirees and active players, discussed additional aspects that need focus like latency issues affecting gameplay, the bugs that remain unresolved and the slowly weakening PVP scene. However, there were also players who questioned the necessity of the article. Some mentioned the futility of such a movement at the current stage of the game, comparing it to other games that slowly decline after a few years of activity, and some mentioned the current stand of Cherry Credits and Eyedentity towards player feedback in the SEA server. Regardless, many experienced players have expressed support towards AikawaKazu's proposals, and the blog post was later linked to the NA and EU servers by SaitoHikari, a noted player from DNNA. The related discussions revealed EU's issues with lack of new content and NA's concerns about class discrimination. EternaLLight also opened a discussion in DNTH, although no details of the response were reported.
Eventually, the discussion showed signs of breaking down as posts about "CC paying the players to save the game" and that the suggestions are slowly becoming too selfish. The "Pay to Win" argument was also a short tangent to the discussion, but was later dropped as the thread's tone becomes more pessimistic towards the current issues in the server and the tendencies of other players to post content that does not contribute to the topic at hand. The negative sentiments, towards the game, the developers, and the players, only worsened as the thread continues without a response from anyone from Eyedentity and Cherry Credits, with AikawaKazu questioned for being partial towards Cherry Credits.
In a nutshell:
"OT: I still do have faith with the community but as I've read in the past few pages; the community tends to debate on ideas and then eventually going on personal attacks. I don't think it's healthy but there is not much we can do about it
"
— Joluuzz, 06 November 2014 - 09:37 AM
Update as of 21st May 2015, Credits to
Luxtroll
:
AikawaKazu made a
statement
saying that he would be leaving DN SEA PvE, essentially quitting for good other than casual PvP and casting for those games. To sum up his reason:
"Dragon Nest overall is heading towards an unfortunate direction given its immense potential (I'm very sure people who love this game will agree) and I've decided that I'll also leave DN PVE entirely, and for PVP I'll still be playing casually and aiding in the hosting/shoutcasting of Tournaments." - AK
Though he is just one player leaving, it does shed some light on how even the most hardcore fans of the original DN SEA are eventually leaving the game because of the path it's headed for. It's an unknown future for the community in DN SEA but hopefully some things will change for the better.
Semi-Significant Figures:
TrollQueen + Longcat:
I never knew that person was named 'TrollQueen', but i'm guessing he/she is the person who started using that huge longcat signature, forcing people to scroll down an endless picture of probably the longest cat known to all of the internet. The cartooned cat started with it's head at the tops of space all the way down to it's feet in the fiery depths of hell.
Longcat was first decided as a nuisance, and was first spotted...I believe during the Racism war. The user stopped posting them due to the moderators taking action, manually removing the signature. Surprisingly, longcat was used during the meatspin war as an alert poster when the disaster hit, notifying all that they should spam to the next page in order to skip the disgusting gif.
Longcat has yet to be seen again, most likely due to the new signature size limits CC has and the obvious removal of the picture if it were seen in a post.
FutebolBR
(I think that's how it was spelled anyway)
:
This person was spotted as a wannabe troll after all of the wars had died down (around the
end of September)
. It was during that time this person came in and started embedding his posts with autplaying youtube videos of soccer matches containting the dreaded 'vuvuzela' horn. At first he started off by 'hiding' the videos, making them 1px by 1px autoplayed youtube videos but I guess after some warning or something, he decided to have the actual sized videos play in his posts, which may have allowed some people to pause them but he further infuriated the community by embedding multiple videos at once, so forumers either had to leave the thread or pause all of his videos.
Later on he adapated pictures and a signature of the famed term, 'Haters Gonna Hate', obviously provoking the rest of the community that they couldn't do anything about his spamming unless CC stepped in. I don't remember if CC took any action but this person's presence finally died away in the forums and has never been seen or heard of again.
enzo80 / PinoyHater / Collute
Shortly after the Saint Haven update, there was a person on the forums who decided to follow in the footsteps of our old friend Collute, hating on the race now known as the 'magic word' - pinoys. Not much is known about this person's mysterious past but his recent actions have been significant enough to cause a period of remembrance for this poor soul.
Enzo80, as he was called, first embarked on his ban-worth journey by starting up a few Filipino hatin' threads, which eventually lead his 'safe' thread regarding ordinary agate locations to be filled with trolls. Nobody really knows what reaction sparked within him, but it was a definite fire starter to his outrage on the forum community.
Around the late night hours on the
28th of October
, Enzo first started showcasing some hacking websites which he found and immediately received flaming for his actions. Little did the community know, it was just fuel for the fire. His next barrage of threads started pouring out all over the General Discussion area, with the titles of hacks and cheats that should be looked at immediately before CC caught him.
These threads about hacking soon alerted the late-night moderators and they stepped in to assist, deleting all traces of his hack threads. Most of the forum community silenty thanked the Goddess that most of the SEA community was not around to see the carnage due to the late hours and predicted he would be gone by the time most of the forumers woke up.
Enzo, with his original forum account most likely banned, was frustrated with his failed attempts, and decided to take the 'magic word' route from the path he once started on: to create the wall of Pinoy hatin'. He created a new account with the alias 'PinoyHater' and proceeded to spam the next few pages with threads of his request for Pinoys to S his (black) D, but were quickly deleted by the now alert moderators. Shortly thereafter, he was assumed to be banned (again), and the community crossed their fingers, hoping that this mini-war starter would stop his rage-induced threads.
Unfortunately, enzo did come back for one last attempt with an unnamed alias, probably thinking that it would allow his attacks to be seen and heard by all at 1-3AM, GMT +8 in the morning. The new threads were named as the old titles of asking pinoys to perform the certain action. At this point, most of the community knew he was fighting a losing battle and would eventually give up all attempts to wage a full-scale war since the moderators were watching his every move. Near the end of his attacks, I did receive some direct spam messages in threads addressed to me from enzo, being called a shemale that liked D but they were soon removed, along with his unnamed account.
Nobody really knows if he will return with a new alias, but the DN SEA forum community has once again, recovered from this attack, and has returned to their 'peaceful' state of flaming, trolling, and some nice answers on the side.
It is now belived that enzo is in fact, Collute. No surprise there but nonetheless, he has not changed.
Later it was confirmed that enzo was indeed Collute and he made a comeback using his old name. Most of the community weren't surprised by his racial words but his change in attack pattern took the forums by storm. Nobody expected a direct and obvious onslaught of racist threads from the passively known Collute.
Spambots
(Reminded by
Misty_Blue
)
Quite awhile back, around the time when the community of DN SEA was starting to get established, a person...or group decided to launch a full scale barrage of advertisements that still go on in the forums today. Though it seems to be the work of many users, one can probably conclude that they all originate from an isolated group, purposely targetting the DN SEA forums. These advert attacks usually contain the promises of free TV shows or access and while they may seem to be typical spam to the average forum user, they are nonetheless a very large nuisance among the entire community.
The CC staff have been alert around the clock, making sure to shut down or move these threads to the Cafeteria (I have no idea why) in order to keep a sense of tidyness in the DN forum categories.
Though the rising infections of advertisements have been steadily rising in the forums, the crackdown on these syndicates have also been stepped up, but it is hard to say or see if CC will take further action against these attacks. CC can continue to quarantine these spambots but the war between staff and spambots may soon reach a climax that will shake the entire forum community if not stopped in the near future.
---
A snapshot in time by
Levan
A reminder to all those entering the company of the forums, this was once a battleground:
Levan said:
---
This concludes my current knowledge of the wars and figures that the DN SEA forum community has experienced, and I apologize if there are some mistakes in my statements as they are based off my memory.
As everyone could kind of tell I left DN quite awhile ago and i've moved on from the game but I do take a visit once a while back to the forums just to see who's still alive. Even if we may never return to the game, at least we'll have this to remember the times spent together. Good luck and have fun guys!
I am sure there will be more history to be recorded in the DN SEA forums. With more wars, and significant figures to reach these sacred grounds, the DN SEA forum community must once again, stand strong and ready for all that may be against them.
May the Goddess watch over you all. Patience and Faith, for the Goddess.
Edited by Lemon, 14 September 2016 - 10:54 PM.