Check out the following Game Enhancements in this patch right here.
-Changes/Additions:
<Unique Tier 2 Equipment Added>
- New Lv95 Unique Tier 2 Equipment has been added.
- Lv95 Unique Tier 1 Equipment can be upgraded at +20 Enhancement Level and the upgraded equipment will become Lv95 Unique Tier 2 +0 Enhancement Level.
- Tier 2 Equipment's stats will be [Tier 1 Equipment + +20 Enhancement Level Stats + Additional Stat Increment].
E.g. Hero's Medea Tier 1 +20 Enhancement Level to Hero's Medea Tier 2 +0 Enhancement Level: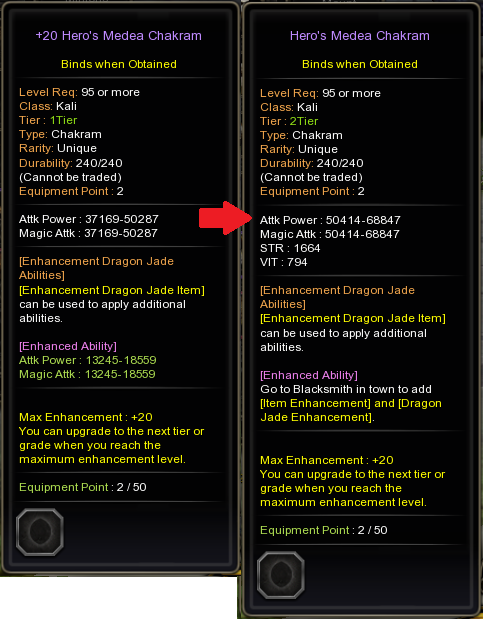 <Converter Added>
-Lv95 Equipment's grade and tier converter has been added.
-You can craft the Converter at the Blacksmith.
-[Equipment Converter (Tier 2 Medea – Tier 1 Calypse)] will be available in the future.

<Changes in Converter>
-You can now choose stats when you use the Lv95 Equipment Converter.
-This is applied to all Lv95 Item Converters.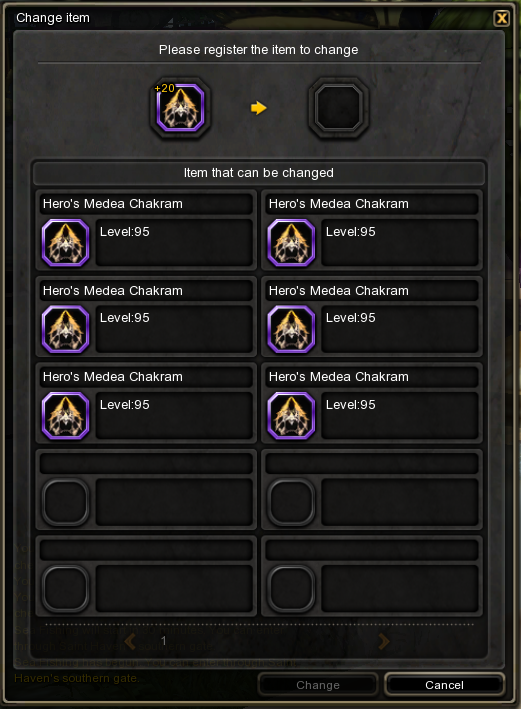 -Choose your desired stats
<Enhancement Stat Weightage Adjustments>
- The increase in stats for levelling up Lv95 Epic, Unique, Legend Tier 1 Equipment from +1 to +20 has been adjusted for each level.
Now you will be able to feel the growth in lower Enhancement Levels as well! (the final maximum enhancement remains the same).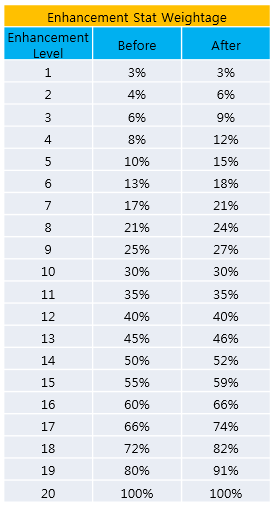 <Enhancement Cost Adjustments>
- Enhancement cost of Lv95 Epic and Unique Tier 1 Equipment (Hero's Neris, Hero's Medea Equipment) has been greatly reduced.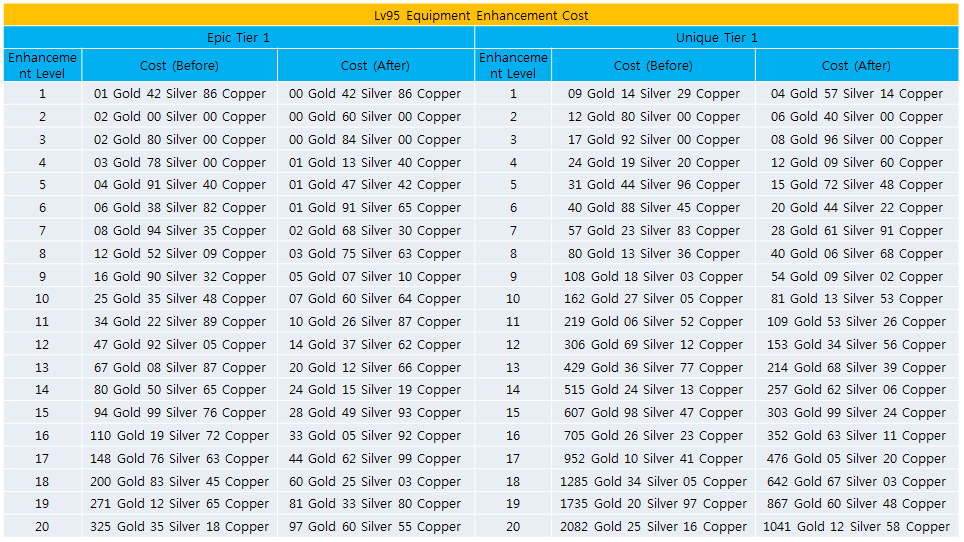 < Changes and Additions in Powerstone Crafting >
- Apart from the existing Low Grade → High Grade Powerstone Crafting method, High Grade → Low Grade Powerstone Crafting has also been added.
- All Powerstone crafting and exchanges can be done at the Blacksmith's [Purchase/Repair Items - Powerstone] tab.
- You can no longer craft Powerstone by going to [Blacksmith – Craft Item – Common Goods] .
- [Polished Garnet] is no longer needed for Powerstone crafting and required Gold which used to be 1 Gold has been increased to 10 Gold.

<< Using Crystal Points >>
-Go to [Merchant Cherry] next to Saint Haven's Trading House to use the Crystal Points Store.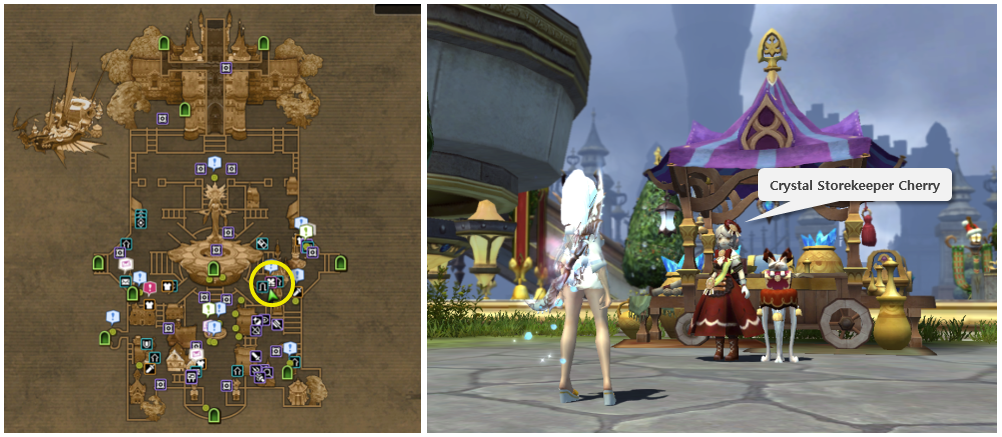 <Crystal Store Items>
-It will be composed of various in-game items which can be changed regularly.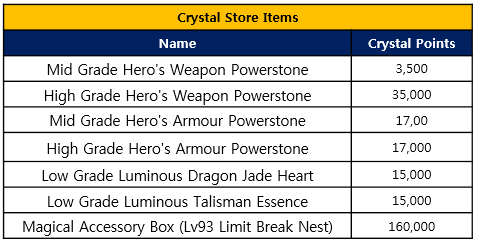 Daily Tasks Revamp
<Changes in Daily Tasks and Rewards>
-Some of the Daily Task rewards have been changed. (Crystal Points added)
<New Exploration Added>
- New 10 minutes long Low Grade Task has been added.
- You will not get a Reward Box even when you successfully accomplish this task but you can earn 2000 Hero EXP within a short period of time which will give you more opportunities to embark on other tasks.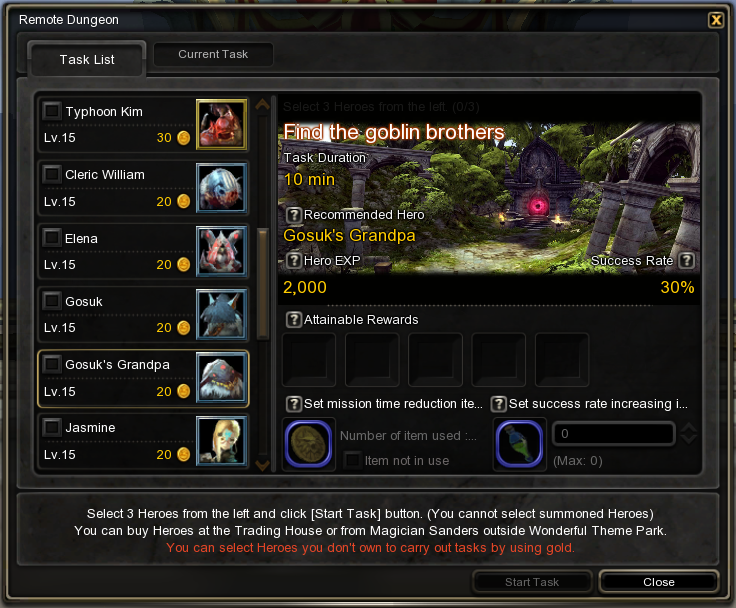 <Adjusted Task Success Rate>
- Basic task success rate and additional success rate for recommended Hero have been adjusted so that Hero selection plays a bigger role in Remote Dungeon Exploration.
- Basic success rate for Mid Grade Exploration and High Grade Task have been lowered ( Before : 30 → Now : 10)
- Additional success rate for using recommended Hero has been increased for tasks of all grades.
<Adventure Boxes Added>
- Now there are more types of boxes you can get by successfully accomplishing the tasks.
- Some of the rewards for successfully completing Mid Grade and High Grade Tasks have been changed to [Shiny Mid Grade Adventure Box], [Heavy Mid Grade Adventure Box], [Shiny High Grade Adventure Box], and [Heavy High Grade Adventure Box].
- To open [Shiny/Heavy Adventure Box], you need a set amount of Adventure Keys and you can get [Flimsy Adventure Box] and an item (either Spera or Powerstone).
- [Flimsy Mid Grade/High Grade Adventure Box] contains the same items as Mid Grade/Adventure Box but it can be opened without Adventure Keys.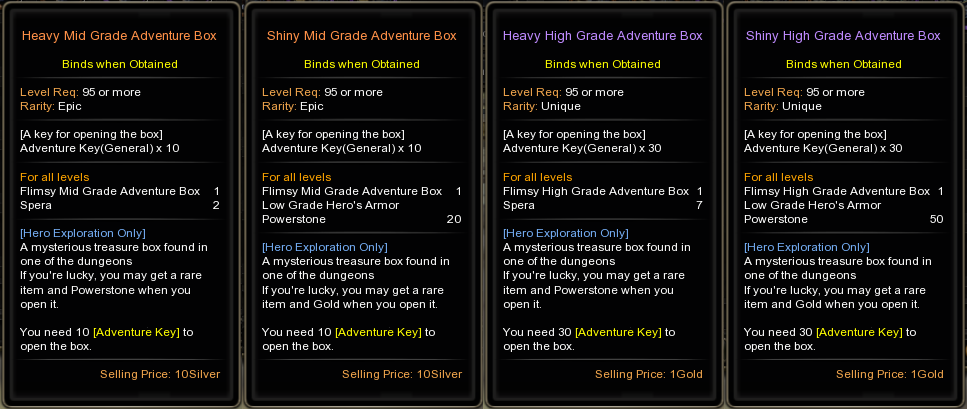 * Newly-added Adventure Box. You can get Spera or Powerstone at a set rate!
<Changes in Adventure Box Contents>
- Items have been added or changed for Low Grade Adventure Box, Mid Grade Adventure Box, and High Grade Adventure Box.


<Hero Awakening Potion>
- Now there are other ways to get Hero Awakening Potion (M) and Hero Awakening Potion (L) other than the Gacha Box.
- Like the Hero Awakening Potion (S), Hero Awakening Potion (M) and Hero Awakening Potion (L) can now be purchased at the Wonderful Store using Wonderful Points.
- Daily restriction for buying Hero Awakening Potion at Wonderful Store has been removed. Now you can buy any amount of the potion.
- You can also get Hero Awakening Potion by completing Daily Tasks.
Wonderful Theme Park Store
-Lv95 Chaos Heraldry and Hero Awakening Potion have been added.
-Lv93 Heraldry is no longer available.

-You can now buy [Hero's Neris Equipment] through Saint Haven's Blacksmiths.
-You can select the stats (STR, AGI, INT) before purchasing.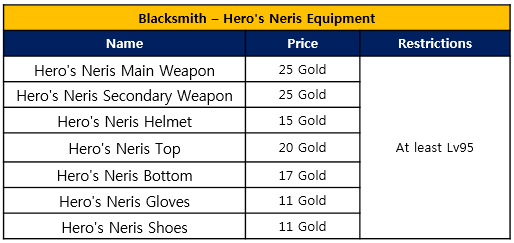 Dragon Scale Store
-More items can be purchased with Legend Grade Rune Dragon's Wrath.