Check out the Part 2 of Game Enhancements in this patch right here.
Changes in Dungeons
<Changes in Abyss Drop Items>
-Items dropped in Lv95 Abyss dungeon have been changed as shown below.

Changes in Enhancement Hammer (Fixed)
Enhancement Hammer's issue has been resolved.
You can enhance items above level 93 that allow enhancement using Enhancement Hammer.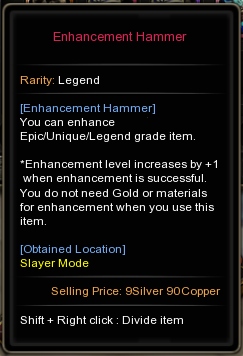 Level 93 Rune Dragon Unique Equipment and Legend Equipment can only be enhanced up to Enhancement Level 10.
*We apologize for the inconvenience until now.
Changes in Durational Additional Entry Ticket
- Additional Entry Ticket Tokens are not 2-days durational items anymore.
Duration has been removed and it has been changed to an unlimited duration item.
- Item has been added to Additional Entry Ticket Store.
You can now buy Additional Entry Tickets at the shop without Gold by using more Additional Entry Ticket Tokens.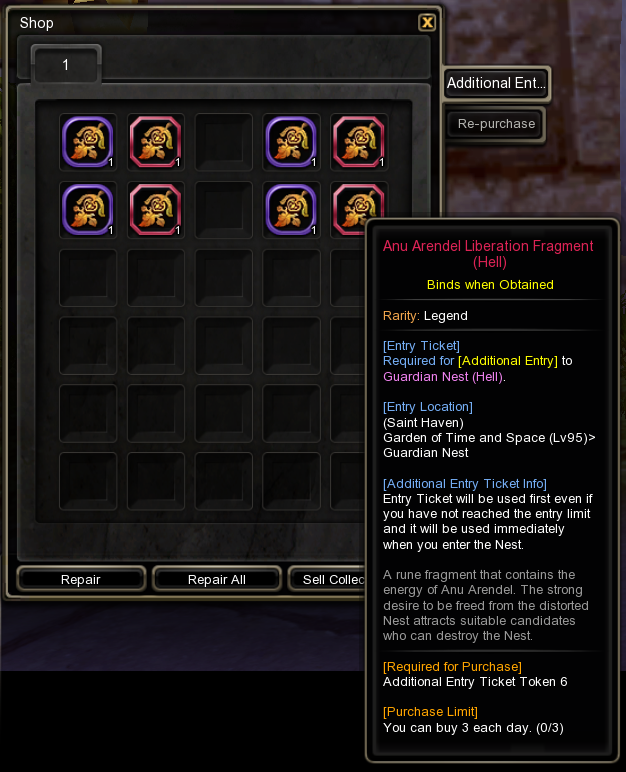 Store Improvements
-The name of shops have been changed to points name instead of the currency name.

-Nest Points Store (Goddess's Sparkle Store) items have been changed.
-Evolution Hammer Fragments which were necessary for enhancing old items have been removed.
-[Dragon Jade Modifier] has been added to Nest Points Store which can change the stats of Lv95 Unique and Legend Grade Dragon Jade.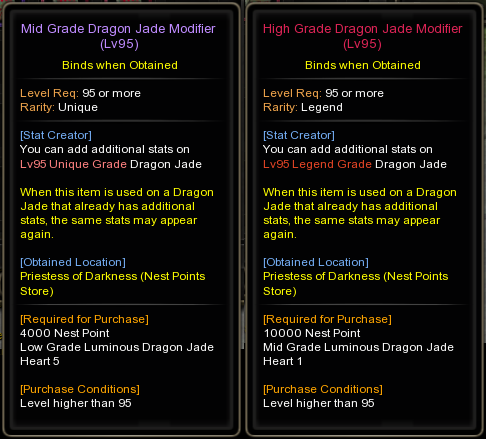 -Gosuk's Erosion Store has been merged with Dungeon Points Store.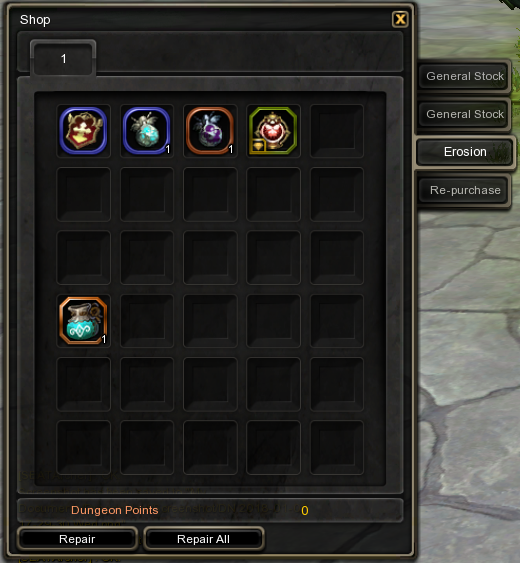 -Items in Dungeon Points Store (Goddess's Lament Store) have been changed.
-Evolution Hammer Fragments which were required to level up old items have been removed.
-It has been combined with Erosion Store. (You can see the Erosion items by going to [Erosion] tab)

-Items have been added to Nightmare Points Store.

Party Reward Revamp
Changes in Party Achievement and Rewards
-Some of the party rewards and achievement conditions have been changed.
-You can check the conditions for party rewards and achievement status by pressing [O] to open the [Community] window and select [Party Reward] tab.

Community Points Added
-When you reach 10,000 Party Reward Points, you can get 10,000 [Community Points] every week.
-Party Reward Points are reset every Saturday at 9am as before but Community Points will not be initialized and up to 50,000 points can be accumulated.
Community Store Added
-[Heraldry Scholar Stas – Community Store] has been added.
-At the [Community Store], you can use [Community Points] to buy items you want.
-You can now buy [Goddess's Teardrop Hat] at the [Commu
nity Store] which used to be sold at Goddess's Lament Store and Battlefield Points Store.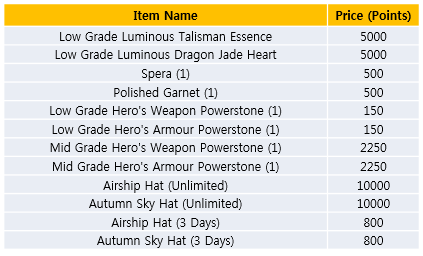 Autumn Sky Hat and Airship Hat will be added later on.
Beggar's Box
Beggar's Box Item Added
-You can get [Beggar's Box] which is a sealed box that can be bought at the store or is dropped in dungeons.
-You have to satisfy certain conditions to open [Beggar's Box].
-Fulfill the conditions within the time limit to open the box and you can get [Crystal Points]!
E.g.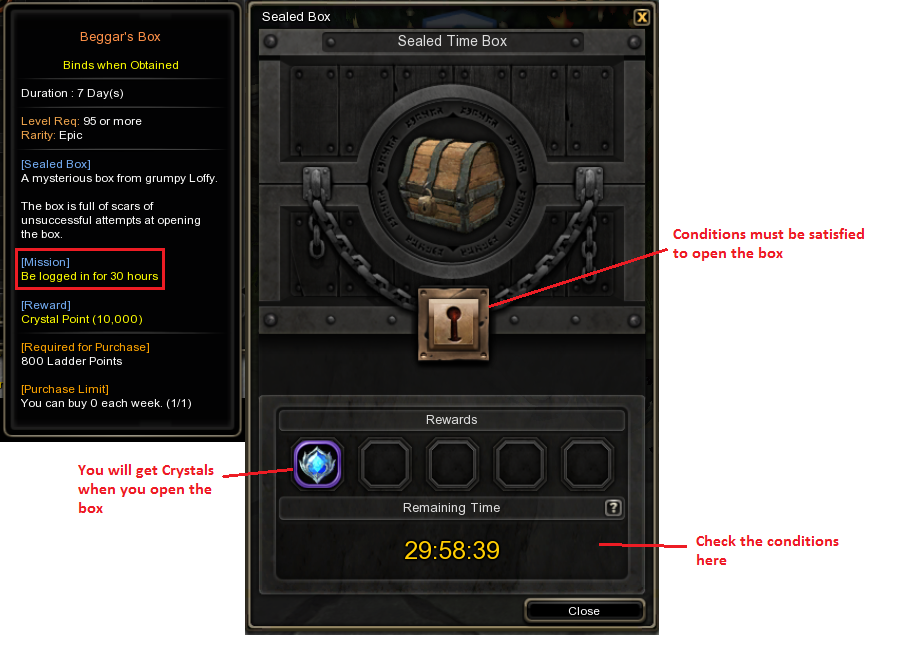 Where to get Beggar's Box
1.[Loffy the Beggar – Sealed Box Store]
-[Beggar's Box] can be purchased using various types of points and each box has different conditions for opening them.
-All boxes can be bought only once a week and time limit for using the box is 7 days from the purchase date.
2. Heatwave Volcano Nest (Normal), Grievous Guardian Nest (Normal), and Treasure Stage's Gold Chest
-[Beggar's Box] will randomly appear from the Gold Chest at the reward selection after clearing Nests and dungeons.
-[Beggar's Box] obtained from Gold Chests should be used within 3 days.
-Opening conditions vary for each box.

Adjusted Monster Difficulty Level in Chiron Island
Monsters will be weakened for the 5 Chiron Island's Abyss dungeons.
- Normal monster : HP 40% ▼
- Boss monster : HP remains unchanged
- All monsters : ATK 50% ▼
Title Tooltip String Added
-Tooltips have been added to Cover Title and Stats Title checkboxes in the Title List.
Collection Title Improvements
Title descriptions, Title list, and Title colour have been changed for Collection Titles.
Now you can see which Collection Book reward it is.
Character Voice Added
Voice has been added for the following characters.
Characters with voice added for Awakening Skills and Awakened Passive Skills :
Gladiator, Moonlord, Barbarian, Destroyer, Sniper, Artillery, Tempest, Wind Walker, Saleana, Elestra, Smasher, Majesty, Guardian, Crusader, Saint, Inquisitor
Characters with voice added for overall skills :
Dark Avenger, Silver Hunter, Arch Heretic, Black Mara
Others
-Popup window delay for selling items successively at the store has been fixed to make it easier to sell items.
-Now you can stack up to 999 material items.