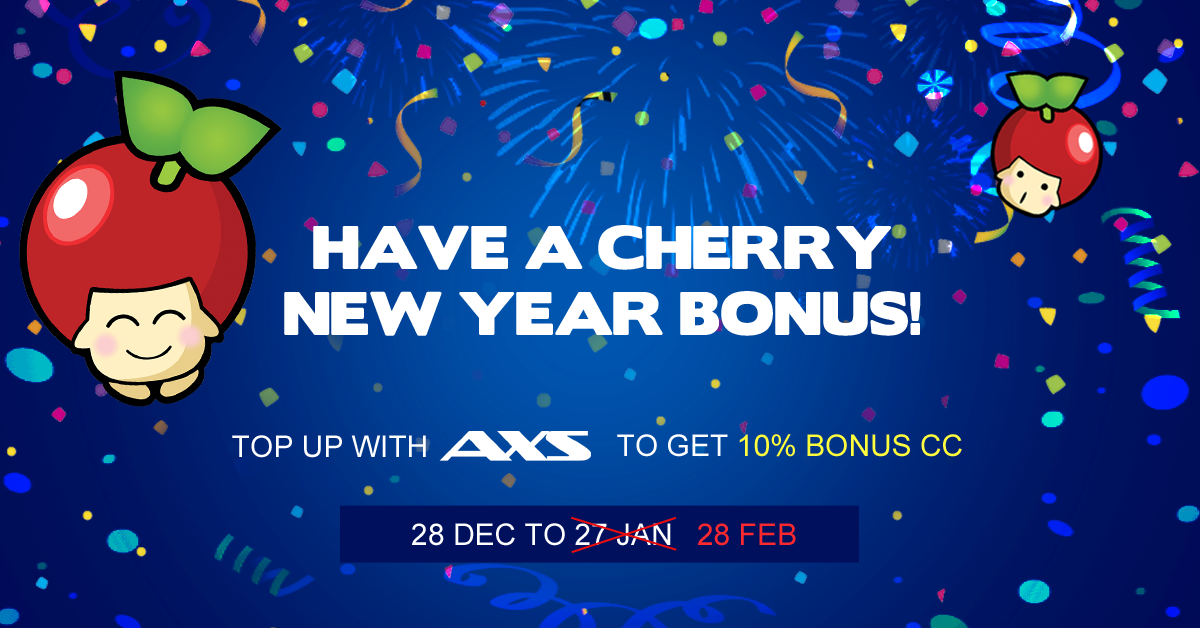 Your Bonus CC doesn't stop here, Cherry Users! 
We heard your pleas and we're here to tell you that YES, we are giving you one last chance to snag Bonus CC this New Year! From now until 28 February 2018, 11:59HRS (GMT+8), get 10% bonus CC simply by topping up on CC via AXS! Check out how it works: 
In a single transaction, top up 30,000CC and above to receive 10% bonus CC
Examples:
John uses AXS and tops up 15,000CC twice in the same Cherry account. He is not eligible for any bonus CC because he topped up less than 30,000CC per transaction.
Eric uses AXS and tops up 30,000CC, later that day he tops up 50,000CC. He will receive 33,000CC for the first transaction and 55,000CC for his second transaction.
Use your ATM Card at AXS Stations for payment, click
here
for more details.
To find AXS Stations near you, click
here
!
Terms & Conditions:
Promotion Period: 28th December 2017, 12:00Hrs – 28th Februaryry 2018, 11:59Hrs. (GMT+8)
Top-ups have to be made with AXS only.
Bonus CC is only applicable per Cherry account per transaction.
Bonus CC will be credited immediately upon successful top-up.
All decisions made by Cherry Credits are final.
Any disputes will not be entertained 1 month after the date of accreditation of bonus CC.
Terms and conditions are subjected to change without prior notice.
- Cherry Team