Contents:
lvl 1-40 build
pure lazer smasher build




hybrid smasher build
DUALing ULTIMATES
lvl 50 end build
pure lazer build




hybrid smasher build
TALK of most smasher : 9 tail laser???good or not
T4 patch and items to use(updated)
well lets get started
Hybrid builds advantages
more skill to spam




more mob control




more cool skill to use




flich(is this how u spell) the boss with gravity ascension




people like you more(good going skill spammer)




better performance in pvp???




lower dependance of equipment (good for noobs like you and me)



2 ultimates(1 for boss, 1 for mobs clearing)
hybrid builds disadvantages
skill point madness (thinking where to put skill point took me weeks after reading guides and playing)




some skill not able to put(the limit was there....... haiz




lower damage compared to pure laser(as dark skill has high cooldown time, this bring down the dps that is being deal out)
Pure laser build advantages
high dps (if you are able to aim well with skills)

excessive skill points to spend on

build less complicated(thus easy life)
Pure laser build disadvantages
rely on equipments you use very very badly (>>>9 tail laser <<<<)

low/no mob control (either mobs die badly or you die badly)

people don't like you( i was call a noob for not having black hole, so i reseted my skill)

less flashy (dun worry, laser is flashy)

COMPLETE SKILL COOLDOWN (if you were to spam all you skill at once, there will be a 2-5 sec timing where your skill is all on cooldown)
what we are concern on at this point of time is onli our force user skill so screenshot will only be on force user tier skills and nothing else
pure lazer smasher build lvl 40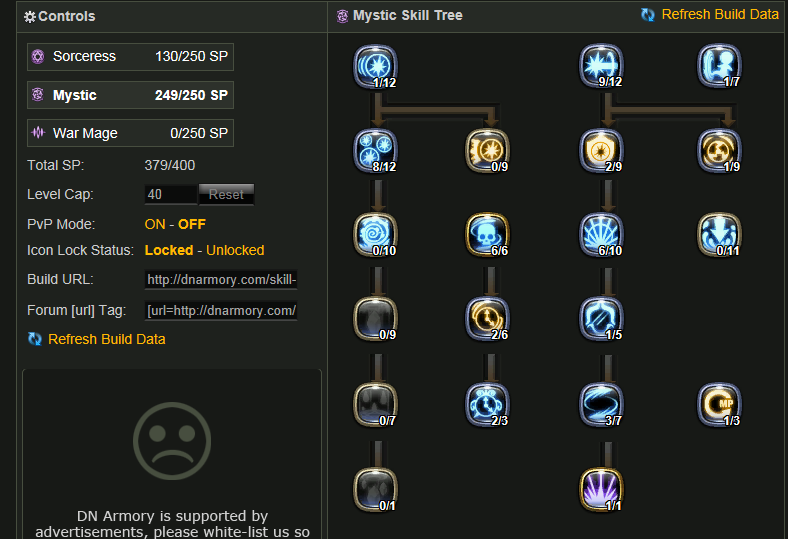 As you can see, pure lazer has pretty much too much sp to spend on
9 tail laser is a much if you are going pure
you can also max your beyond time since you have so much sp
Hybrid smasher buil lvl 40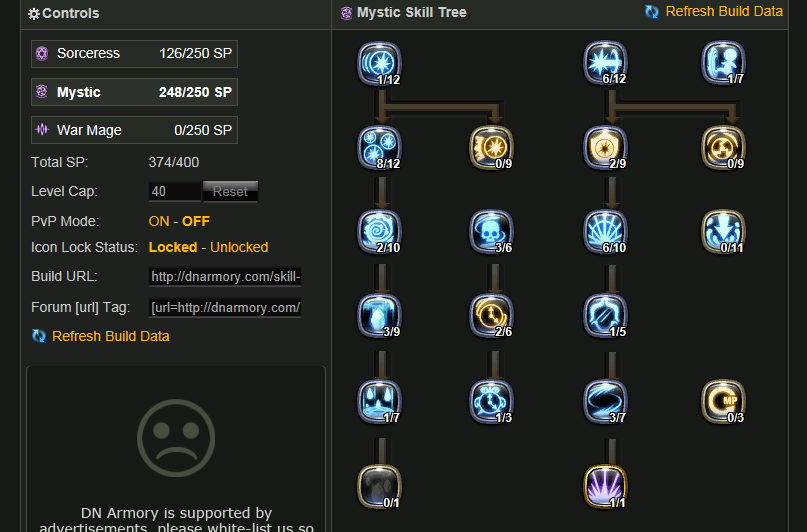 Hybrid build is just about unlocking gravity ascension(i will talk about 2nd ultimate later)
at this point of time we should have trouble putting our skill point but this is the best for now(fear not)
LETS GO TO LVL 50 BUILD but......
ATTENTION TO ALL, ATTENTION ALL, free skill reset at lvl 45!!! (go and try your own build before 45)
FREE 10 sp for all who reach lvl 40 and 50!!!!(woots total of 20 sp)
Free ultimate when you reach lvl 50(???? whats this??)
about dualing ultimate........
according to source on dnsource, there will be some changes to ultimate, so i will just ctrl+v the whole post the guy (Infi) wrote
UPDATED 12/13/11. Read number 7.

I've had a lot of guild friends ask me about the dual-ultimate system, and even though a lot of you know everything about it I thought I'd make a thread clarifying some things about it for my guildmates and anyone else wondering about how it works.

1) You get an extra 10 SP at level 50, for 20 SP total. They did this so you didn't have to change your build around in order to get the second ultimate if you wanted it. You also gain an extra 10 SP at level 40 for those who didn't know (even without the dual ultimate system you still get 20 SP at 40).

2) The SP limit for the 1st and 2nd job trees was increased. The 1st tree was increased from 312 to 318 and the 2nd tree was increased from 312 to 328 (most significant).

3) DNArmory is not a duo-ultimate builder. Reason is because it's only updated for pre-duo ulti patches. If you want to make a build with all of the changes, please use Duowan's simulator. Note that the Duowan simulator doesn't let you put a point into the second ultimate (something about algorithm problems), so make sure you save 10 SP and have enough room in the tree to learn it if you're getting both.

4) You do NOT have to learn the pre-req skills for the second ultimate. If you learn Blizzard, you can learn Volcanic Vortex without having to have level 3 Hot Rod, but you still have to learn the pre-req skills for Blizzard and vice versa. Just think of it this way: the only pre-req for the second ultimate is the first ultimate.

5) Both ultimates share a cooldown. So you cannot use one ultimate right after using the other.

6) Both ultimates share the lowest cooldown of the two. For example, Nature's Rage (Acrobat) has a 120 second cooldown and Quake Barrage has a 90 second cooldown. If you learn both ultimates, both Nature's Rage and Quake Barrage would share a 90 second cooldown.

7) A cooldown plate for the first ultimate does NOT affect the second ultimate. For example, say you're an Inquisitor and you learn Heavenly Judgement first, then learn Miracle Relic second. If you buy the cooldown plate for Judgement, the Miracle Relic cooldown will not be affected by it. So in other words, the two ultimates only share the lowest BASE cooldown.

I think that covers everything. Any more questions you can simply just ask me.
Last edited by Infi;(please go find him at dragon nest source fourm for any question)
will dual ultimate in mind lets move to lvl 50 build
lvl 50 pure lazer build
yup changed the skill simuluator and stuff
nothing much worth talking about
max laser and laser and laser
10 point remain for 2nd ulti
lvl 50 hybrid lazer build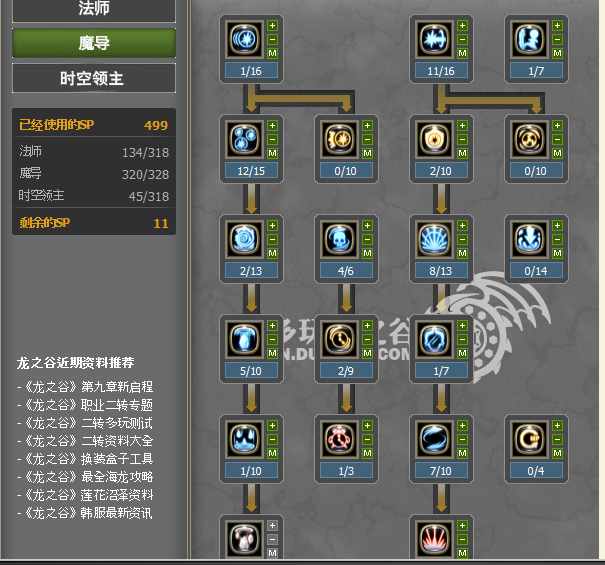 this hybrid has many types of build depending on your needs
i choose lvl 5 on stone to increase the size
you can also change the skill points to 9 tail lazer and time stop and whatever you like(well you are playing your own style this is just a guide)
9 tailed lazer??? good or not???
answer: depends on your equipment(items + heldarys + cash + title and whatsoever)
i have read many guides in regards about 9 tail laser around the world( i can read english, japanese and chinese)
however 9 tail laser primary works as a amouring breaking skill
in terms of damage........ roughly all heldarys and eq with +crit and cost roughly 20k+ gold on china server in total to bring out the full potential
however its skill a good skill to spam while in beyond time due to low casting time compared to others
in my builds i will try my best to max the skill
T4 and stuff:
1)most commonly talk subject is using dark element smasher
-all skills in fu's skill build becomes dark element
-requires to use old dark manticore equipment(not now, but in the future
-main dps comes from crit, dark element % , and final damage
-half sugar did a good job making the vid below
http://youtu.be/BK1VJZbRUiA
2) skills point revamp
- if u have been following guides all over the world, t4 did alot of changes to skills and stuff, and skills distribution have all been changed.
- my build above became quite OLD and stuff yea,(i gt pinned and i didnt even know)
-pls use my above build for the moment , and yea when 3rd job is out u can reset
- 9 tail is still crap, pls dun put it, even after t4 its still quite bad(hope at lvl 60 patch they can make it a bit better)
-linear ray gt buffed and charged time decreased, sooo yea
3)nesting
- SORRY I QUITTED THE GAME FOR ALMOST HALF A YEAR, SO I DONT KNOW(my bad)
in conclusion
you have spent a few minutes of your life looking at my bad english
for that i thank you
but make your own build as my builds here merely serve as a guide line to all who is look at this
and LASTLY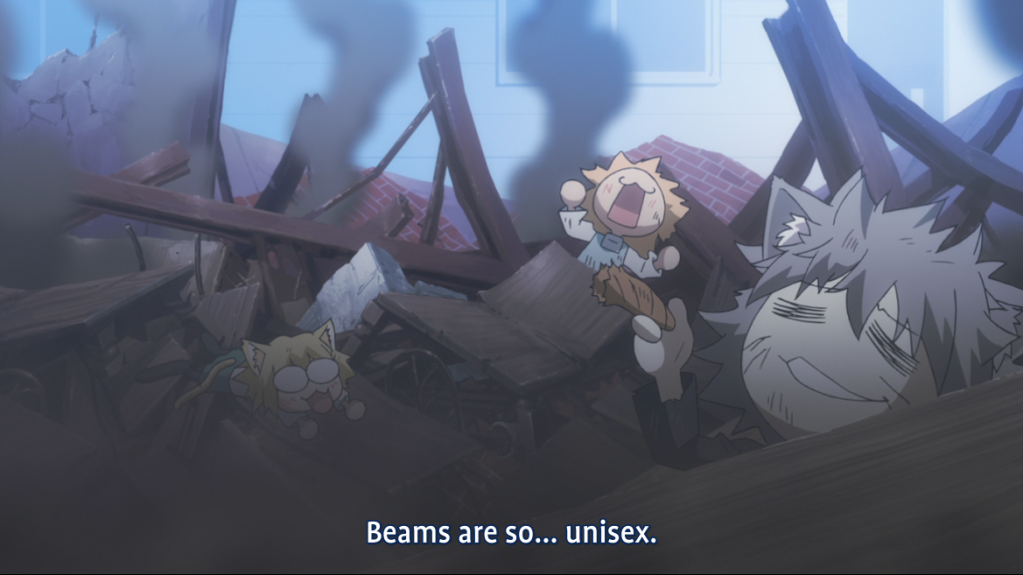 enjoy !!
Edited by Hodora, 10 August 2012 - 04:32 PM.