I`ve been active in this forum for past 2 month, and I see a lot of people getting hacked, scammed etc in abuse report/account issue (yes I know only few people look at that section). And I see there only few guide to defend your account from hacker/scammer.
So I decide to write some basic tips for beginner player to avoid their account/character getting scammed/hacked, here are some little tips :
1) Keylogger Program
This, I could say, is the mother of all hacking method.
Some people put
keylogger
program in internet shop computer to trace your keyboard activity, this is dangerous because they can obtain your game id and password! If you forced to play in internet shop, yhis program will only save/log your keystrokes (anything you type) and will be send to the hackers email.
And yes, this keylogger program is not always infect computer in net shop, when you play at home, you can get infected too.
Talking bit deep about keylogger, it`s actually a program that cannot be run or infected except you
AGREE
to run it, and some of you maybe 'voluntarily' agree to run those keylogger program, here`s the explanation :
Sometimes when you visit a site, certain popups is coming to your browser, it`s usually a
Java Drive-by
popups, like this :
Now you think so what, I want to access the site right? why not click on run?
You can setup those popup urself, but the hacker can make it so,
that if you click on run you install a nice a keylogger
in otherwords they can drop anything behind that Run buttom to screw you.
Now how can this be used against DN players, well I thought about a skill emulator, they just say; I just made this Skill Emulator it has EVERYTHING in it, old T2 build, and the newest T4 and the new job skills, even with live skill viewer.
And BOOM everyone falls of there chair and think OMG THIS IS SO AWESOME. They click on the link and you get a Java pop-up, you think; hmm I never had this on any other Skill Emulator, well I think its just because its so super duper advanced~!
Good job, your infected now
And now lets take case when you are infected by keylogger, what the 1st thing to do? First thing you do is let your Antivrius do a FULL system scan, when he doesnt find anything you can proceed with the next step.
Download and install: Malware Antibytes
here
Let it do a quickscan, remove all the crap he finds.
And now for prevention of keylogger, there`s some ways to prevent the little bastard to enter your computer.
My recommendation, dont pay for a Antivirus you can make a very good ''wall of defense'' with free programs.
I remember someone thought that free Antivirus program's are not good at all, and not even a match for paid one's: LIES
Everything I recommend here is FREE.
For Antivirus I recommend Microsoft Security Essentials.
Its a lightweight, easy to use Anti-virus with an above average detection rate.
You can download it
here
Now for Firewall, this will detects if something or someone wants the change or execute something on your computer. The build in Firewall of Windows is CRAP, instead use COMODO Firewall.
This Firewall will detect what I just told above, in the beginning when you use it you get quite alot of message if you want to accept that something wants to execute.
After a few minutes you will only get that if you wanna install something new, because it remembers wich application you trust so it will not ask for that anymore.
You can download it
here
Source :
http://forum.mmosite...c3e3ba13-1.html
2) Avoid Playing In Internet Shop
Another things why play at internet shop is risky is because there a lot of
eyelogger
. At several internet shops, there are no privacy, no divider between each computer there, so that everybody literally can see and peek at you when you typing your login id, complete with password and your 2nd password. To avoid this, try to play in internet shop that have their own bulk/divider between its computer, so you could have some privacy and avoid those eyelogger, like this :
3) Dont Share Your In Game Information (account,email,passwords) To Anyone.
You are responsible to your own account, dont share it even to your closest friend.
4) Set A 2nd Password
As I mentioned before about keylogging program, it is important to set secondary password because keylogger program cannot detect mouse click, therefore if your account get hacked, they cannot access your account and you`ll still have chance to reset your password later.
You minimize your hacking chance ALOT by setting 2nd password so just do it.
5) Dont Log In Into Suspicious Website That Offer Free Gold/Cash Item!

You might notice some people in world chat/PM-ing you some shady website (sometimes they said it`s GM related event) that give free Cash Item/Free gold,
DONT EVER LOG INTO THOSE WEBSITE.
Those website (oftenly end by tk/tc) is fake website made to gather people account, once you log in, your account will be hacked.
Remember,
simply viewing / visiting those websites can get your accounts hacked
(due to trojans hidden on the source code of the webpage). Do not, under any circumstances, visit these websites. (Credits to
PayrPaks
for this suggestion)
Log in only at
http://dn.cherrycredits.com
, that`s the only official website for this game.
Here the case from
http://forum.cherryc...are-tourny-scam
Its a scam attempt made by
wthell110
, he try to persuade a player to join a pvp tournament. What raising our suspicious here is he ask us to login into that website. For your information, I try to go into that website, it`s ask us to provide them with our LOGIN ID, PASSWORD, 2ND PASSWORD and EMAIL.
For your information, legal and legit tournament of DN is only held by CC Credits at
http://dn.cherrycredits.com
and you can see list of official tournament at
http://forum.cherryc...pvp-tournaments
, beyond that any tournament is
FAKE
. One more, CC would never ask for such login ID when you asked to join tournament, if someone PM you about shady tournament that require you to log at a site,
IGNORE IT
for God`s sake.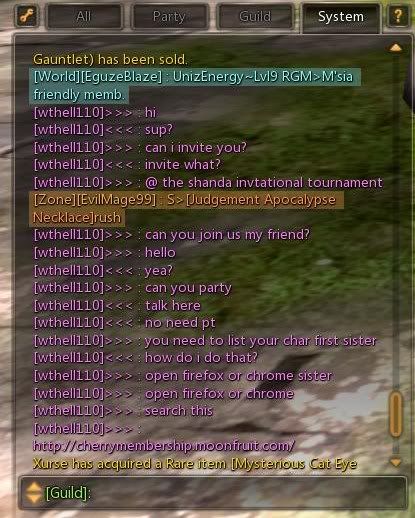 6) If 'CC' ask about your personal information (password,account,email) via in game PM/e-mail to your email account, DONT TRUST it!
I see some people receive email/PM in game said that their account will be suspended unless they provide their account information to them . Keep in mind that some ppl will scare you by say that your account will be banned if you dont give them those information,
IGNORE THEM
! CC never ask those data because they already HAVE it. Those account may say that they are the GM/CC/Related to them both. The truth is, CC only contact you via Cherry Messenger, not via in game PM/E-mail.
Here the case of 'ccservicer' from
http://forum.cherryc...view/ccservicer
miomsyz00, on 2012-03-06 12:17:40, said:
5/03/2012 (Hollywood Server) Character Name : MeluRX
i got pm from CCservicer that claim i got serious error from my account.
He told me that my id will permanantly delete from this game . He tell me that i just have 1 Hour to fix. OMG then i follow his guide for fix this problem.
what he ask is my ID name/ security password/ my birthday.If i not answer correct then he will ban my id.Then he wan me go to offical cherry website to make new msj and send to technical support.
the item that he wan me to send is
Subject :
Fix GDP Dll Error (Date)
Content is :
Please approve my GDP reboot to new GDP File
Reboot From GDP 8329 to GDP 99905
GDP.Dll Code : 9X045PC
Gameclient IP : 344.109.22
Connection Mail Box
Cherry.Credits@live.com.my
then he ask me change my id from kingchai00@gmail.com to Cherry.credits@live.com.my
so he ask me wait then i got DC from game.
I wait then i monitor my CC transfer and i see my id got buy seal stamp 50ea. I try to login back but all my id and password already reset. OMG. nice work scammer.If u all face this problem beware. They acting very same like GM. if possible Help me GM.

You can see that he`s PM-ed by a shady player called 'CCServicer', threatened him about permanent ban, and ask him his LOGIN ID as excuse to 'fix his account'. This 'CCservicer' is a fake gardener of CC, as I stated before that CC only contact you via
Cherry Messenger
, not via in game PM.
Other variation of this scam method is player pretend as game GM. Please be informed that GM wont personally PM a player to ask about
ANYTHING
, they might join a nest party sometimes to gather data about bug/game, but they never contact nor respond to player.
7) Dont Trade Cash Item Outside Trading House.
Many people get scammed by this method, said that you have to sent gold first, then they will gift the cash item later. This kind of transaction has big potential to turned into a scam transaction, because if you sent gold first there will be a high chance that he`ll run away with your gold and never send the promised stuff.
Thus. tt`s already stated in game abuse policy that it`s illegal to trade Cash Item outside the Trading House, execute this kind of transaction can lead to account banning. Trade cash item only via Trading House, and you`ll be safe.
Here a more complete guide by
Eloysia
about trading cash item outside TH :
http://forum.cherryc...e-trading-house
8) Be Careful with People Offer Item With Cheap Price Outside Trading House.
You know that some player are shouting their goods to sold outside the TH with low unusual price (ex : S>INT DIAMOND CODE 120 G ONLY,TRADE ME!). Those low price is already suspicious from beginning, why you want to sell at low price while the price in TH is skyrocketing? Those 'low price' trick is made to entice innocent player to buy their stuff, usually they will swap the item with cheaper one. I ever experienced myself trading with a scammer who want to sell intermediate diamond code for only 110g each, but in the end all I got is low grade diamond code which has same sprite.
This kind of trade doesnt limited to cheap common stuff only, beware about
ALL ITEMS
that sold at unusual price (e.g Comet tail for 4.7k, Apo Accesories for just 2k etc), you can try contact the seller but you better cancel the trade for your own security if the seller refuse to sell it through Trading House . Another thing :
If you dont want to trade via Trading House because you too stingy to spare few extra tax gold, please understand that that few extra bucks is NOTHING against the risk of getting scammed, you better lose 10 golds for the tax rather than lose 1k gold because you scammed for trade it outside Trading House
.
Here the example of this scam method, a scam attempt by
SaGaBoOm,
as he try to sell
Intermediate Diamond Code
with cheap price, then in the middle of transaction he change it into
Low Grade Diamond Code
, taken from :
http://forum.cherryc...nd-code-scammer
<br />
Here some pro tips from IAvias regarding trade scam :
iAvias, on 2012-04-16 16:38:51, said:
Things to consider to with regards to trade glitches:
1. Some item icons
looks the same
(e.g.
EPIC CODES
LOOKS THE SAME (
low/intermediate/high
) ../../ckeditor/plugins/smiley/images/cool.gifhttp://forum.cherrycredits.com/forum/topics/view/trading-scam) ~ This is specially important when trading
very expensive RINGS WITH PERFECT POTENTIALS
../../ckeditor/plugins/smiley/images/love.gifas the item icons for that are the same (
with or without potential
) ../../ckeditor/plugins/smiley/images/shocked.gif
2. Be carefull when dealing with
amounts
(e.g. a person selling you
2000 comet dusts
might end up giving you just
200
after you press register, same goes with gold,
20000 gold for a perfect pot
rev apoc ring
might end up being just 2000
after you press register)
3. And most importantly
, don't rush trades, take your time to look at the item being traded before pressing OK.
Pro tip:
Click Register first in order to see the
'the other party has made changes to the trade'
whenever an item/amount is changed by the person you are trading with ../../ckeditor/plugins/smiley/images/wink.gif
Really Pro tip:
Don't be distracted by chat comming from the trader, and
don't let him rush you to press OK
(Although rushing you is a really big sign that he is trying to scam you so best to back away from the trade as soon as possible) ../../ckeditor/plugins/smiley/images/clap.gif
UBER PRO TIP:
When you have closed a deal, have the item put in TH instead of trading it personally ../../ckeditor/plugins/smiley/images/cool.gif
source :
http://forum.cherryc...de-scammers-101
9) Check the Nest Loot Rules Before Go!
Some in-game scammer in public nest party use this dirty tactics to obtain all the loot for himself. Usually
standard loot rules in party is take turn to loot. Some player abuse it by change it into
Random Distribution Disabled
, makes all the loot goes to the one who picked it up. Actually it`s okay if everybody is aware about the loot rules, but most of the time no one\know and realize the loot rules is not random, making it an advantages to the party leader who change/set the loot rules earlier. To avoid this, make sure you always check the loot rules when you go into public party, and dont hesitate to leave the party if the party leader doesn`t want to change the loot rules.
Lastly, if your account getting hacked, you can still recover it by contacting cherry via Cherry Messenger, here another guide by
Lemon
about how and where to contact CC :
http://forum.cherryc...herry-messenger
If you follow those simple step, your account mostly will be safe from those scammer/hacker, sorry for the wall of text and bad english, hope this help, happy gaming! ../../ckeditor/plugins/smiley/images/peace.gif